Spring is here and the weather is getting warmer! With that comes cooler food, like salads, especially salads with a twist.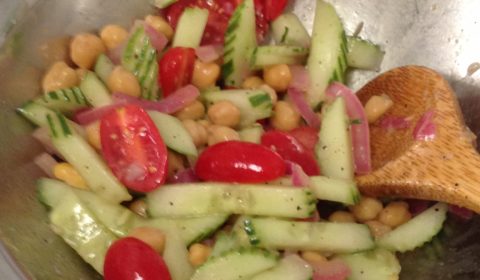 Came across the recipe of a Cuban salad (ensalada cubana) when I was looking for something original for a potluck. My husband has this awesome Cuban cookbook, where I got the inspiration for this recipe. This was different because the dressing is made with hot oil, to soften the onion and garlic flavor. That is one technique I had never used before, a "stir fry" approach to a salad! The original recipe included shrimp, but I left out the shrimps and bell pepper, and gave it my own spin. The result? A delicious salad, without the pungent onion smell or flavor. I know, onions are great for cooking and salads, but raw onions upset my stomach so this was the perfect solution for me. Definitely making this again!
Ingredients
1/2 cup EVOO (extra virgin olive oil)
1 cup diced red onion
3 cloves garlic
1/3 cup lemon or lime juice
salt & pepper
1 green bell pepper cut in chunks (left out in my version)
4 large red ripe tomatoes sliced thin or
(1 cup baby tomatoes, halved)
1 cup cucumber, cubed or sliced
cilantro, chopped
(Optional: 1 cup chick peas)
Instructions
Heat oil (don't let it smoke), add onion, garlic and juice. (Add chick peas if using.) Remove pan from heat and stir for two minutes. Let the mixture cool off, season with salt & pepper and refrigerate until ready to use.
Blanch bell pepper, arrange with tomatoes and cucumber on a platter, drizzle (or toss) with dressing, sprinkle some cilantro on top before serving.
7.6.7
4
https://www.multiculticooking.com/2017/04/11/ensalada-cubana/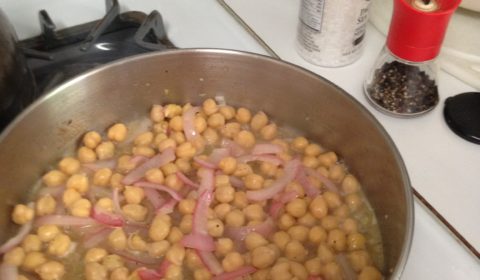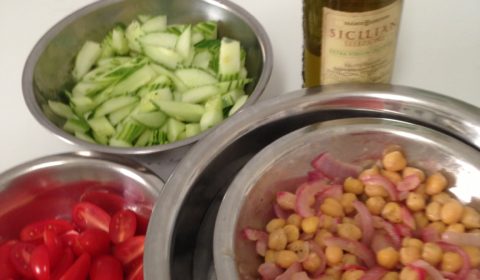 Enjoy!