Do you like to experiment with recipes, try out new dishes and challenge your taste buds?
That sounds a lot like me 🙂
If you like the recipes on my blog, learn how the spices and herbs I use regularly can be very healthy for you too!
When I was younger, I only knew that it made my food taste good, but once I started looking into the health benefits of these spices and herbs, I was blown away! Yes, Mother Nature provides, not only to nurture but also to heal our bodies.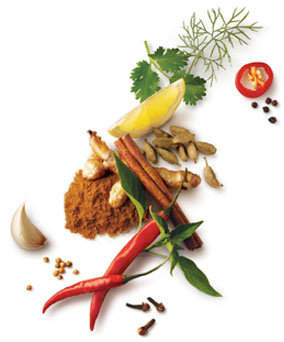 Did you know that cumin can help lower cholesterol levels? That oregano can relieve congestion? Or that nutmeg has antibacterial properties? It is truly amazing!
Ready to learn more? Enter your name and email address below to receive the mini article series on Healthy Spices & Herbs free!  These articles will arrive in your mailbox twice a week (every three days). You are also getting updates anounced on and off the blog (recipes, news). That is a lot of useful information available to you free, so go ahead and sign up below.
Healthy Spices & Herbs
Traditionally, spices and herbs have been used as home remedies for a long time. Recent scientific studies have helped to better understand the overall effect of spices and herbs on our bodies. In these mini articles, you will find out which spices and herbs I use daily in my kitchen are good for us and why. Each article highlights one spice or herb used
in Asian cooking

in Caribbean cooking

to improve heart health

to treat a cold
Purpose
The purpose of giving out this information is to encourage you to experiment and cook more with spices or herbs you may or may not know. Not only do they make your food taste good, but they may benefit your health as well, so why not give it a try?
Let me stress however, that these articles are by no means a replacement of sound medical advice. They only serve to inform you of additional benefits you may not yet be aware of.
Please know that I will never sell or share your email address with others, because I hate spam as much as you probably do.
If you decide that you no longer wish to receive updates from the blog, you can unsubscribe any time.  (But, you can always come back for more! 😉 )
Register for the spice articles here:
Subscription Form
Please fill in and submit the form below to subscribe to our mailing list.
Powered by SendFree