During the past couple of months, I have been busy working on various projects and today, I am proud to present the publication of my first eBook in the series of mini recipe books of international favorites. Isn't it fitting to start with Savory Snacks, since appetizers are what start off most meals?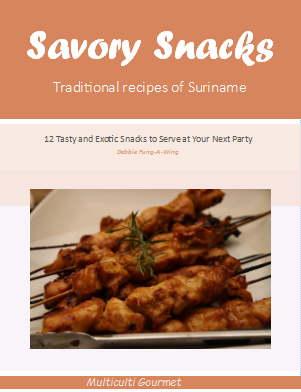 Savory Snacks
Savory Snacks from Suriname includes 12 delicious recipes to make your next party somewhat exotic. Recipes are based on traditional cooking from Suriname, a diverse cuisine with Asian, African and European roots.
Why only a dozen recipes?
That way you can try a new snack every month without being overwhelmed by choices. In my experience, many recipe books on my shelves never made me want to try each one. Truth be told, I keep going back to my favorites and I hope the recipe books in this series will do the same for you. Some recipes in Savory Snacks from Suriname are simple, others have a bit more steps, but this brings some balance. Each one is a personal favorite that I've cooked many times. I know you will find them delicious too.
Why sell the eBooks here in PDF format and not for Kindle on Amazon?
 Not everyone has or uses a Kindle device and I was asked a couple of times, when my books would be published in another format. Some people even requested a printed version of my spice books. By creating eBooks in PDF, the recipe books are available to a larger group and if someone still wants a printed version, they can print at their convenience.
Special sale of Savory Snacks from Suriname
 For a limited time only you can get the book at a special discount! Hurry, use coupon code: DISC2  for $2.00 off, before it expires in 2 weeks.
Here's a preview of some of the recipes with photos. Like what you see?  Visit the shopping page at Multiculti Gourmet to purchase your copy.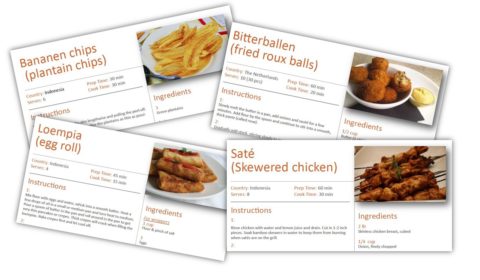 Thanks for your support! Bookmark our blog to come back for the next recipe book in the series.
We would love to hear from you, so feel free to comment below.