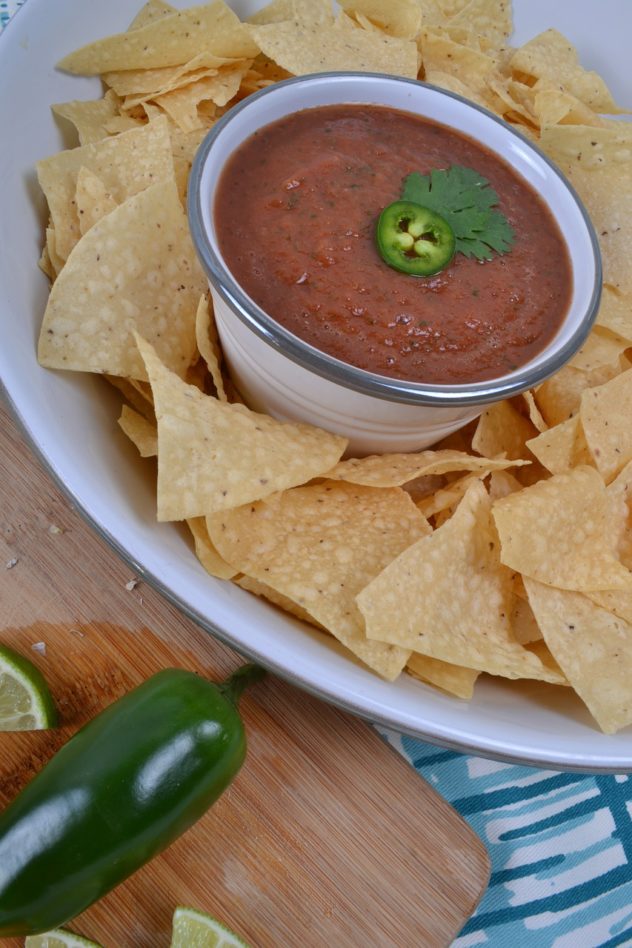 It's the season for parties, and although salsa is very popular during the Summer months, it really fits any party. Needless to say that homemade is the best!
I used fresh tomatoes for this recipe, but to save time, you could also use canned tomatoes, which can probably be stored a bit longer than fresh.
But I guarantee, your fresh, homemade salsa will be so yum, there will not be a drop left to store!
Speedy, easy salsa dip
10 minPrep Time
10 minTotal Time
Ingredients
2 lbs tomatoes, diced
1 white onion, chopped
5 cloves garlic
1/2 bunch cilantro, chopped
2 jalapenos, sliced
juice from one lime
Instructions
Depending on your food processor, you can chop your garlic and onion first, before adding the rest of the ingredients. Pulse until blended.
Add more jalapeno if you like a spicier salsa (this is mild).
Enjoy with (blue) corn chips or add to your meal.
7.6.7
1
http://www.multiculticooking.com/2016/11/29/speedy-easy-salsa-dip/
This recipe was inspired by the 5-minute Salsa from My Real Food Family