December was, as usual, THE party month of the year, with lots of food everywhere and it was the perfect time to experiment with a new one: Cheesy Chicken Alfredo dip… Yes, it was yummy! You've gotta try it, but only if you want your guests to clean it out ASAP!!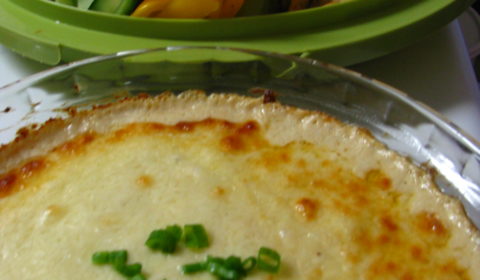 As I was multi-tasking during Thanksgiving, I cooked some chicken breasts in the soup base of this  Colombian corn soup I wanted to try out. You could also use rotisserie chicken and chop the chicken breast up. Anything goes when you're really busy!
This recipe is super easy and I think the hardest part was cooking/chopping the chicken, and maybe slicing the bell peppers and cucumbers. I also served crackers, but everyone liked the peppers and cucumbers best. They're a perfect balance to the rich Alfredo dip.
Too easy not to try!  You and your guest will really enjoy it!
Cheesy Chicken Alfredo dip
Ingredients
2 cups cooked chicken shredded
1 package (8oz) cream cheese softened
2 cups shredded mozzarella cheese divided
1 jar (15 oz) Alfredo sauce
1/2 teaspoon Cayenne pepper
3 Bell peppers (green & colored), crackers or bread for dipping
Instructions
Preheat oven to 350°F.
Combine chicken, cream cheese, 1 1/2 cups of mozzarella, Alfredo sauce and Cayenne pepper in a large mixing bowl. Taste and add more pepper or seasoning if desired.
Spread into a 1 1/2 quart baking dish and sprinkle with remaining 1/2 cup of mozzarella. Bake for 20-25 minutes, or until hot and bubbly.
Serve with vegetables and crackers for dipping.
7.6.7
2
http://www.multiculticooking.com/2017/01/11/cheesy-chicken-alfredo-dip/
Original recipe:  Cajun Chicken Alfredo Dip