How not to drain your salad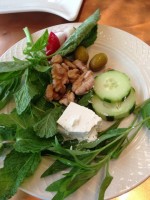 If you are a salad or veggie lover, a salad spinner is one of the best investments for your kitchen. Just beats drying your veggies with paper towels any day! Besides 'wasting' paper towels and time to dry off your green leaves, there's just no better and faster way to drain your veggies.
I've had one for years and just ran it ragged from overuse. It wouldn't spin properly anymore and didn't efficiently drain water from my greens, so I ditched it. Didn't buy one for years because it was not on the top of my list of priorities and I thought I'd just use paper towels…
What a waste of time and towels that was! Especially since I seldom prepare meals without veggies or salad.
So when I received a gift card for Christmas, I decided to go salad-spinner-shopping. Oh Boy, who knew there were so many to choose from!
There are way too many different sizes, models and brands on the market to make a quick decision, so I did my research and comparisons, and decided on the OXO.
Why the OXO salad spinner is the best
First off, there were many great reviews of the product on Amazon. I also liked the way it looked and worked. The mechanism couldn't be easier to use: push the button down to start spinning, whoohoo! No more manual spinning clockwise or counter clockwise, just push down!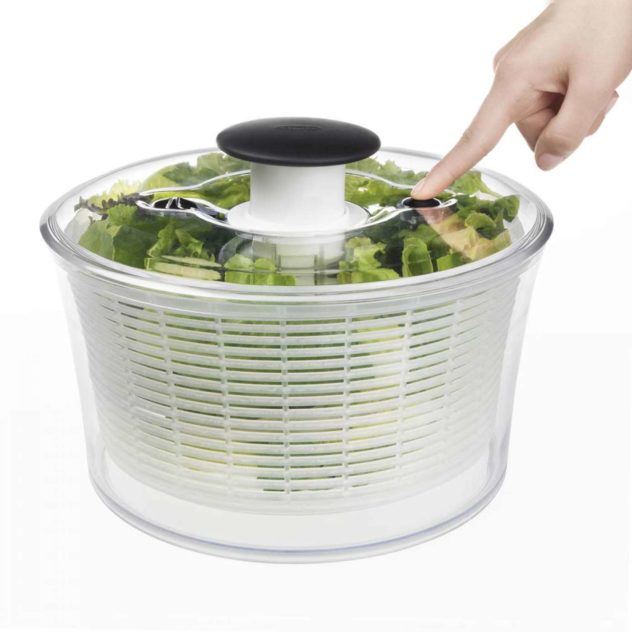 A big plus? The outer bowl functions as a salad bowl, a large salad bowl!
The spinner is easy to clean and store away. What's not to like?
I'm sooo happy with my choice!! I didn't realize how much I missed this gadget until I first used my new spinner.
You've got to get your own!
Some salad spinner reviews
Don't take my word for it, check out the video review below.