There is a great variety of cuisines available in (Metro) Atlanta, which makes it hard to choose sometimes where to go for dinner. Since we are adventurous "foodies" we like to try new stuff, especially dishes we don't or can't cook ourselves. It's been a while since I wrote about my culinary adventures, so here we go again.
We decided to go Mediterranean for our anniversary in September this year and choose Flavor Café Bakery, a Persian restaurant in North Atlanta. It was a true delight to be served great tasting, freshly prepared food! I had almost forgotten how much I enjoy this type of food.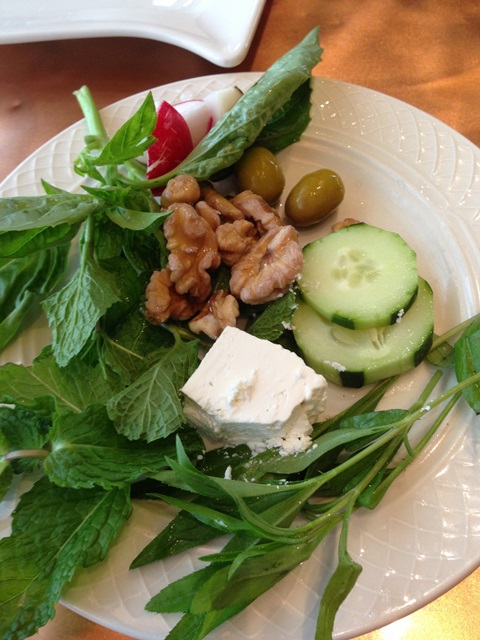 This fresh appetizer/salad with flat bread, consisted of goat cheese, olives, radish and walnuts drizzled with honey on a bed of basil, mint and tarragon. If you followed my blog, you know that I'm currently very much into healthy spices and herbs and wrote a few Kindle books on the topic. Knowing how good these herbs are for us, made the dish even more ejoyable 🙂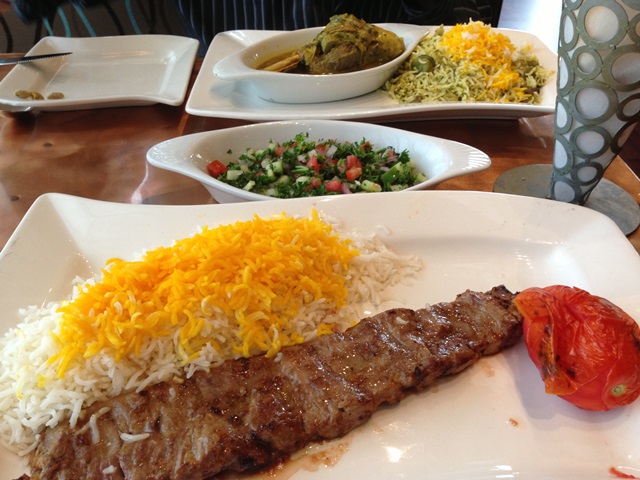 My dinner choice was Barg (open fire charbroiled tenderloin kebob) with saffron Basmati rice and a charbroiled tomato. It was the fluffiest, most tasteful saffron rice I ever had (and I have eaten at various Mediterranean restaurants)!
Since we can never have enough vegetables with dinner, we added a Shirazi salad, made with cucumbers, tomatoes, parsley, onion with with a citrus olive oil dressing. Not your every day salad, at least not mine, and we enjoyed every bite of it.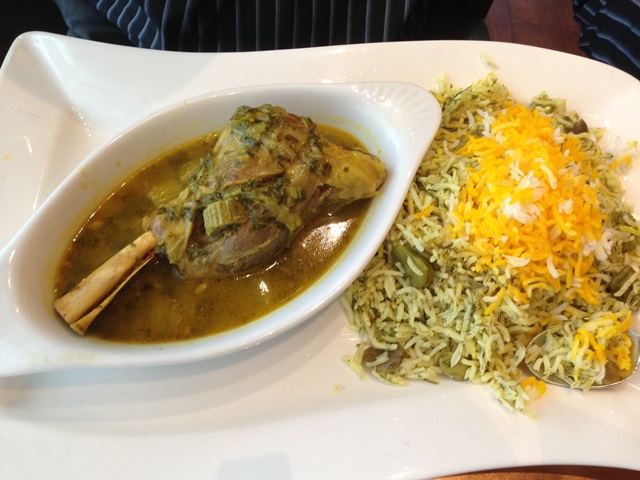 Although he is not a big meat-eater, for some reason my husband selected the Rhubarb Lamb Shank, slow cooked lamb with fresh herbs and rhubarb, with dill fava beans Basmati rice. Of course I had to try it too and it was delish!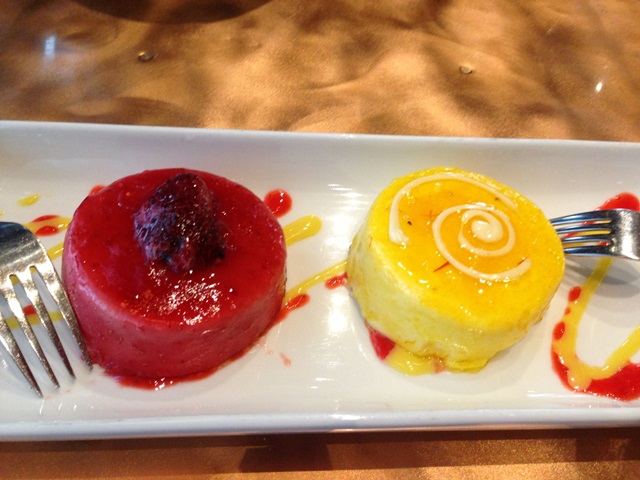 To top off a great dinner, we could make a selection from the freshly baked pastries on display. It was not easy, believe me! I went for the peach mousse while my husband opted for the raspberry mousse. Of course both were great! Not too sweet and very light. Although we said we didn't have  room for desert, the mouse was gone in no time!
What a great choice of restaurant this was on our special day. I can go back any time and have me another Barg! Or shall I go for the Ghormeh Sabzi?  You'll have to go to Flavor to find out what it is  🙂
(Persian for Bon Appetit)