My husband and I like to experiment with cooking, but when he came home with an acorn squash last week, I thought "what in the world?" It looked like a mini pumpkin with a tough dark green skin, but I had no idea what to do with it. The only squash I know how to cook is zucchini and crookneck (yellow), mostly in stir fry dishes. I grew up with pumpkin but never knew it was also known as a squash…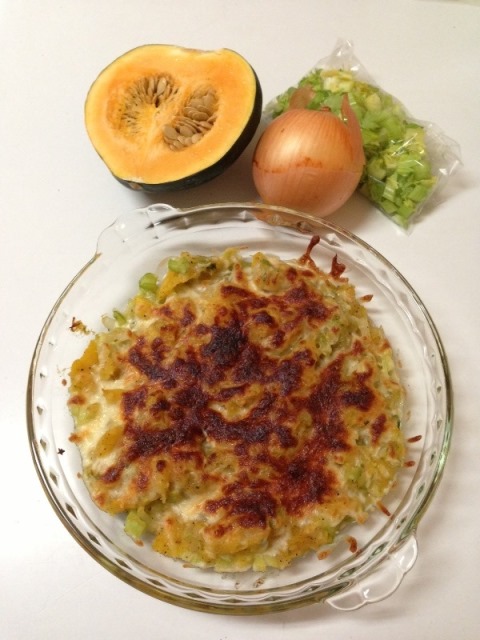 This squash however was impossible to peel because the skin was really hard. I didn't know how to cook it or how it tasted: sweet like pumpkin, or bland like zucchini? Thankfully the All Recipes app on my iPhone came to the rescue! I looked up recipes by acorn squash and found one that appealed to me; it was not complicated and I liked the ingredients, so I decided to give it a try. Of course I deviated from the original recipe (Cheesy Acorn Squash by Linda) to make my own, and I was really surprised by the result. My first time cheesy acorn squash casserole came out to be really tasty and I simply had to share it with you. I hope you'll like it too!
Ingredients:
1 acorn squash, halved and seeded
3 tbsp butter
1 cup diced celery (stalk & leaves)
1 cup chopped onion
1/8 tsp salt
1/4 tsp black pepper
1/2 cup mozzarella cheese, shredded
Place squash cut side down in a glass dish and microwave for 15-20 minutes on High, until almost cooked.
Melt the butter in a pan over medium heat and saute celery and onion until transparent. Sprinkle with salt and pepper.
Let the squash cool off a bit, or hold with a towel, then scoop or cut chunks of the meat out, adding to the celery/onion mixture. Continue to cook until the squash is completely cooked but still firm.
Preheat oven to 350 degrees.Pour mixture into a glass dish, cover with cheese and cook for 10-15 minutes in the preheated oven until the cheese is bubbly, turning a bit brown.
I served this with beef and rice, but the casserole only would have been sufficient with meat. It was delish!! And as an added bonus, acorn squash is a good source for potassium and fiber!
Try it out and let me know if you liked it too.