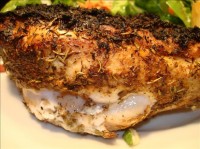 If you like spicy food, you should try Jamaican Jerk Chicken. It's a different kind of hot & spicy than Javanese or Curry chicken, because the 'burn' is not only coming from the peppers. Although some of the spices used are found in all three recipes, the combination of allspice, cloves and nutmeg, add more heat to this dish. The recipe below serves 4, but  the seasoning can be used as a rub on fish, pork, goat, and vegetables too. Just remember that meat should marinade at least 6 hours or overnight.
Jamaican Jerk Chicken
6 tbsp packed light brown sugar
6 tbsp ground allspice
1/3 cup minced scallions or onions
2 tbsp oil
2 1/2 tbsp ground black pepper
2 tbsp salt
2 tbsp ginger, minced
2 tbsp lime juice
1 tbsp soy sauce
1/2 tbsp dried thyme
1/2 tsp ground cinnamon
1/2 tsp grated nutmeg
1/4 tsp ground cloves
4 cloves garlic, minced
1 habanero chile, minced
3 lb chicken
Mix all ingredients, except chicken, in a bowl to make the jerk seasoning.
Add chicken and toss to coat in the jerk marinade. Cover with plastic wrap; chill at least 6 hours, or overnight.
The meat can be grilled on a charcoal or gas grill, but Jerk chicken can also be made in a cast-iron grill pan over medium-high heat. An alternative way is to bake the chicken on a foil-lined baking sheet at 350° until done.
Add chicken, skin side down; cook, turning once, until marinade forms a crust on the outside, about 8 minutes. Cover grill or pan and continue to cook until the chicken is done, about 40 minutes.
Serve with rice and steamed cabbage.
Bon apetit!
Everything cook and curry man! (Jamaican slang for "everything is fine")
Photo by Vicky in CT