Does this sound familiar? You come home late and you're starving. There are no leftovers or frozen meals, and instead of ordering pizza or chinese, you want to have a quick, healthy meal. That was me, for the past two days! Glad I know some quick and easy recipes that get dinner on the table in less than 1 hour. This recipe is for a one-pot meal that has your starch, vegetables and meat, all in one! And yes, it's tasty too!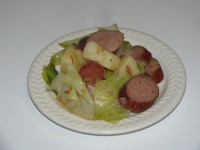 If you do the food prep the night before, it will take you even less than 30 minutes to have dinner on the table, fresh and yummy! Boil the potatoes, slice and dice the rest the night before, so all you do when you come home is cook (combine) everything in the order listed below. Go try it!
Cabbage-Sausage-Potato dish
Ingredients:1 smoked sausage, sliced4 potatoes, peeled and cooked

1 cabbage, cut thin, wide or in big squares

1 onion, sliced

2 cloves garlic, chopped

1 tomato, chopped

3 bouillion cubes

1 tsp sugar

black pepper

2 tsp oil

1/2 cup water

Cabbage, sausage, potatoes, tomatoes, onion

Sauté onion, garlic, tomotoes

Add smoked sausage

Cabbage added

Potatoes join the party

Almost done!

Some black pepper

Enjoy!
Heat oil in a wok or pot big enough to hold all ingredients.
Add onion, garlic and stir for a few minutes.
Add tomato, bouillion, sugar and stir for 2 minutes.
Next add smoked sausage, stir, then add cabbage with half of the water, turning over the mixture. Cover the wok or pot and cook for about 5 minutes.
Turn over the mix then cover again, cooking until cabbage softens. If it's really firm, you can also pre-cook the cabbage for 5-10 minutes in boiling water.
Cut the cooked potatoes in large chunks and add to the cabbage and sausage, stir and cover with mixture for better blending of flavor. Add the rest of the water and cook for a few more minutes until the sauce thickens a bit.
There! Dinner is ready in less than one hour. Wasn't that easy?
Simple as this meal is, it's one of my family's favorite and I hope you'll like it too.
Tip:
If you don't like sausage, you can substitute for any smoked meat. Yes, the smokey gives this dish the special flavor.
Enjoy!