Lately, I've been diving into Latin American cooking, cookies and desserts included. I found this simple recipe for almond cookies from Ecuador and wanted to give it a try.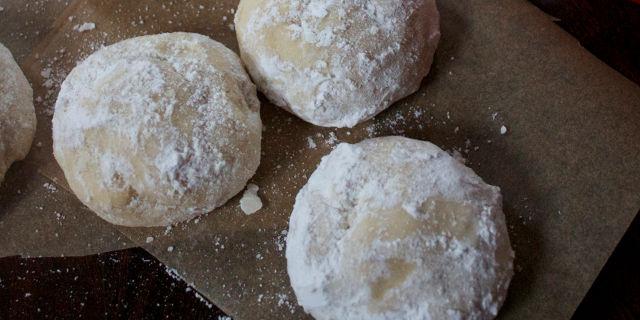 Initially I planned to double the recipe, but 3 cups flour looked like it would generate a big enough batch, especially since this was an experiment. Well, I wished I had remembered that I changed my mind, because I started the preparations with a whole cup of almonds (yes, double), while I followed the rest of the recipe to the letter. Of course I remembered this when the cookies came out of the oven… oops!!
The result was a soft cookie with almond flavor, that was not too sweet. If you're trying to cut down your sugar or you don't like your cookies too sweet, give these Polvorones a try. Polvo is powder and I believe the name has to do with the powdered sugar coating.
Ingredients
1/2 cup almonds (or 1 cup)
1 can sweetened condensed milk (14 ounces)
2 eggs
3/4 cup unsalted butter, at room temperature
3 cups all-purpose flour
1 tbsp baking powder
* confectioners' sugar, for dusting
Directions
Preheat the oven at 390°F.
Chop the almonds until fine, using a food processor.
Combine sweetened condensed milk, eggs, and almonds with a mixer, beating at medium speed.
Add  1/4 cup butter at the time, beating at medium speed until the ingredients are combined. Small bits of butter will be visible in the mixture.
Add the flour, 1 cup at a time, at low mixer speed.
Add baking powder at same low speed until combined. The dough will have a sticky consistency.
Roll a small quantity of dough between your flour-covered palms to form golf ball-size cookies.
Place the cookies  a couple of inches apart on a baking sheet lined with parchment paper.
Bake in the preheated oven for 10 to 12 minutes. The cookies will crack slightly on the top. Test doneness with a toothpick. If it comes out clean, the cookie is done.
While still warm, sprinkle the cookies with plenty of confectioners' sugar. Remember, the cookie itself is not very sweet, so this is how you determine the sweetness.
Although it was not my intention to use more almonds, I have to add that it didn't overwhelm the flavor of the polvorones at all. So … if you like a stronger almond flavor, go for it and double the quantity of almonds! 
Source: http://www.thelatinkitchen.com/recipe/polvorones-sweet-almond-cookies