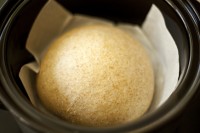 If you've been reading this blog, you know by now that I love using kitchen tools, gadgets, instruments, whatever they're called. I especially love those that make life easier and my crockpot is on that list too!
The reason I like the crockpot, is that you add your ingredients, turn it on, walk away, and 6-8 hours later dinner is ready! Tender and juicy, it never burns. Just be careful not to add more liquid than your recipe calls for, unless you like your dinner to be soupy!
So I put good use to my crockpot (the knob on the lid is hanging by the screws cause the plastic broke off) and ditto for the 3 cookbooks I own for it. I have used my crockpot mostly for cooking the main dish (roast beef, french chicken, pork roast, etc.), so imagine my surprise when I found this article on how to bake bread in your slow cooker. Unreal!!  First an article on baking bread in a Pressure Cooker and now the Slow Cooker?? Man, I love innovative ways of cooking!
Of course there is no substitute for baking bread in an oven, but this sounds pretty good to me. If you don't like bread with a soft crust that's a bit pale, just throw the loaf under the broiler 5 minutes before serving and you'll have a nice, brown and crusty loaf.  Follow the link if you want to know how to bake bread in your slow cooker on the site of Bread in Five. They'll teach you how to make the dough too, so go bake bread!
 And if you need a slow cooker? Check this one out! See more under Store/Recommendations page.