It's Fall and almost Thanksgiving!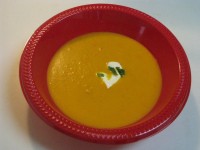 When my family and I were creating the menu for our Thanksgiving dinner, the girls all wanted Ginger Carrot Soup to start the meal. I'm not a huge fan of carrots, but when I saw this recipe on the Foodnetwork.com, I had to admit that the combination with ginger sounded appealing. So I gave it a try and the soup was a hit with my family!
Here's the recipe for my version of this tasty soup.
Ginger Carrot Soup
Ingredients
2 tablespoons butter
2 onions, peeled and chopped
6 cups chicken broth
2 pounds carrots, peeled and sliced
3 tablespoons grated fresh ginger
1 cup whipping cream
Sea salt and white pepper
Sour cream
Parsley sprigs, for garnish
Directions
Melt butter in a pot, add onions and cook until onions are glazed. Add broth, carrots, and ginger. Cover and bring to a boil. Reduce heat and cook until carrots are tender enough to be pureed.
Remove from heat, allow cooling for 5 minutes and then puree in batches in a blender. Cover the blender, remove the inner lid (or open one corner), thereby avoiding pressure build-up from hot liquid and chances of burning yourselfand.  Hold a kitchen towel over the top of the blender to prevent spills. Pulse the blender and then puree until smooth. Return to the pan and add cream, stir over high heat until hot. Add salt and pepper to taste.
Ladle into bowls and garnish with a teaspoon of sour cream and parsley.
Total preparation time is one hour and a half and the recipe serves 8.
Enjoy, and have a wonderful Thanksgiving!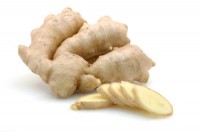 Note:
Besides the fact that ginger tastes good, it appears to be a healthy supplement. Learn more about the health benefits of ginger.
Like ginger, carrots are also very good for your health and you can read more about health benefits of carrots here.