Last week my husband and I went to Aspens Signature Steaks for dinner and although it is a restaurant famous for its steaks, I was in the mood for seafood. Didn't want anything fried, so I was eyeing the grilled Shrimp & cheesy Grits.
Only problem was that I don't really care much for grits… Would they substitute the grits for risotto? When I asked, the waiter said he would check with the chef, because risotto was reserved for the dinner special. I could get mac & cheese or mashed potatoes instead, but he highly recommended the grits, because the chef used a special recipe which made the grits less "gritty." If I didn't like the grits, he would substitute it for something else of my choice. Not wanting to be too 'difficult' (aka pain in the …) to the (cute) waiter, I decided to give it a try. Aspens gave a little twist to the famous Shrimp & Grits of the South and apparently  many of their guests really liked it.
Well….? He was right!! The cheesy grits were delicious, and not gritty at all!  I didn't regret my decision to try it out and was happy to enjoy this Southern favorite. It seems they come Georgia, Carolina, Virginia, or Louisiana style (maybe even more, but these are the ones I found on the web), each giving the grits their own flavor.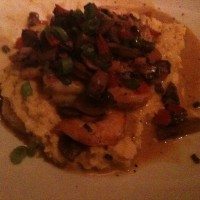 Aspens is a great restaurant in Marietta, Metro Atlanta, and suitable for a nice dinner or special occasion. Good to know that you don't have to go all the way to Atlanta for a great dining experience, food, wine and service included! I have visited several times and anything I ordered so far was excellent.  This time I choose shrimp & grits, wtih tasso ham, crimini mushrooms, scallions, sweet peppers, cheddar grits, lemon butter sauce and a glass of Waterbrook Sauvignon Blanc of Columbia Valley, Washington. I tried to take  a picture with my phone before the plate was empty, but the 'romantic' lighting didn't help getting a clear photo (sorry! It looked a lot better in person). After dinner we shared Van Gogh's "Killer" Tiramisu which was embellished with fresh raspberries, blueberries and strawberries. YUM!!
As part of my culinary adventures, I always try to find the recipes to experiment in my own kitchen. My online research resulted in a recipe provided by Aspens'  managing partner, Jimmy Huch, to the bloggers of EveningsEdge.com, who posted the cheesy grits recipe and who also get full credit for the recipe below.
Preparation & cooking time: 15 minutes – Feeds: 10
Cheesy Grits,  a quick and delicious sidedish
1/2 cup (1 stick) butter
5 cups reduced-sodium chicken broth
2 cups heavy cream
1/2 teaspoon Tabasco sauce
2 1/2 cups quick grits
1 cup shredded cheddar cheese
Salt and pepper
Bring butter, chicken broth, cream and Tabasco to a boil in a stockpot. Slowly add grits and cook for 3 to 5 minutes, stirring constantly, until thickened.  Add cheese and simmer 2 more minutes, stirring constantly. Be careful because grits can splatter. Season with salt and pepper to taste.
You can serve the grits with grilled shrimp or fish and a side salad.
Enjoy!