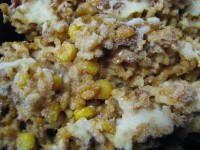 Lately I have been experimenting a lot with turkey, trying original recipes (besides the traditional stuffed turkey for Thanksgiving), but also using common recipes and substituting the meat. In this recipe I substituted ground beef with turkey for a healthier alternative, and it became a favorite of my family and friends. Unfortunately I forgot to take pictures when the casserole came out of the oven, so these show the frozen version of the dish.  Yes, you can make ahead and freeze to serve this for dinner later. It's so easy, you have to give it a try! Let me know how it goes 🙂
Mexican turkey rice casserole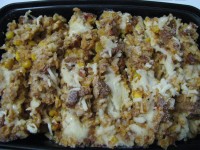 1 lb ground turkey
1 tbsp olive oil
1 pkg taco seasoning mix (1.5 oz)
1 (8 oz) can tomato sauce
1/2 lb Cheddar cheese, shredded
1 can Rotel tomatoes and green chilies, drained
2 cup cooked rice
1 tsp salt or 1 chicken cube
1 (8 oz.) can whole kernel corn, drained
Brown the turkey in olive oil, add taco seasoning and stir a few minutes before adding tomato sauce, Rotel tomatoes, rice, salt and corn. Mix well, adding the cheese and pour into 2 quart (greased) casserole pan.
Cook in oven at 350 degrees for 30 to 35 minutes or until bubbly.
Serve with a refreshing salad.
Tips:
Get Rotel tomatoes without chilies or use diced tomatoes if you don't like spicy food
Sprinkle more cheese over the top if you prefer a cheesier casserole
Add crushed garlic when cooking the turkey for a stronger flavor
Buen Provecho!