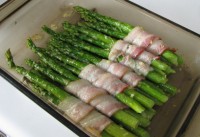 This is a simple recipe to dress up asparagus with bacon and a drizzle of garlic butter to complement your steak or grilled chicken dinner with a festive look. It is a favorite in my family and works as well with green beans (haricot vert). Bacon gives the vegetables a smoky flavor and garlic just finishes it off. With only five ingredients, anyone can make this no-fail dish and brag about making it themselves!
1 bundle asparagus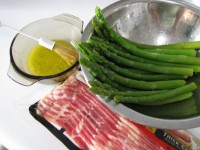 bacon strips, uncooked
2 tbsp butter
2 cloves garlic, finely crushed
1/2 tsp salt
Clean or wash the fresh asparagus, then steam in boiling water with some salt. When the water starts boiling again, take the asparagus out and immediately rinse with cold water until it's cooled off.
Melt the butter and mix in the garlic.
Wrap 3-4 pieces of asparagus with one (or 1/2) strip of bacon and arrange in a (glass) baking dish until you run out of asparagus or bacon.
Drizzle the garlic butter evenly over the vegetables and bake in a 350 degree  oven for about 15-20 minutes, or until the bacon starts cooking a bit.
Tips:
Substitute asparagus with 1 lb of fresh, uncut (long) green beans. You can also use frozen beans, thawed in cold water.
In stead of butter you could also use olive oil, but to me butter tastes better.
As a teenager I started collecting all kinds of recipes from magazines, especially those with appealing pictures of the dishes. I found this simple recipe in a Dutch magazine (Margriet or Libelle) and it's more than 20 years old! Still works for me and my guests love it. I hope you will enjoy it too!
Let me know in the Comments below how you like it, or if you have other suggestions.