Cooking is a language to express the human culture…
I have not posted for months, but not because I haven't been cooking. On the contrary, I have been cooking and experimenting a lot! I have so many recipes to share, but wanting and doing something are two different things. My time has been gobled up by the kitchen adventures and I doubt that will change soon, but I'm back and will try harder to post more frequently.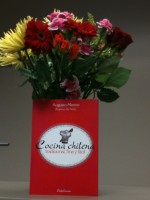 Today I received a great a gift that includes two things I love: food and language! (Gracias Jose & Carolina!)
A cookbook of Chilean cuisine, written in Spanish.  It's the first cookbook in Spanish in my collection of Dutch and English ones. Never mind that now I'll be needing a dictionary next to my scale and measuring cups, I'm very excited about experimenting with this one, while keeping up my Spanish!
A couple of years ago I visited Santiago in Chile and was surprised to find out that (according to the tourguide) there is not one particular Chilean cuisine. It appears that their food is heavily based on European (French, Italian & German) cuisine. Imagine that! So, unlike Colombian arrepas (stuffed cornbread), Peruvian ceviche (seafood cocktail) or Brazilian churascuria (grilled meat), there was no typical Chilean dish? I felt a little bit disappointed even though I loved the local food I got to consume during my trip.
Fast forward a few years and here I am, presented with a Chilean cookbook (straight from Chile)!
"Cocina chilena, tradicional, fina y fácil" translates into "Chilean cuisine, traditional, fine and easy." It was given to me for two purposes: to keep up my Spanish and to try out some Chilean dishes. The author is well-educated with a broad interest. Besides being an attorney with a master's degree in political science, former university professor and director, he also headed and was member of several international organizations having to do with the culinary arts! Augusto Merino is an amazing culinary expert, who already wrote four cookbooks and is working on another one. My jaws dropped! I thought I was busy, but where was this man finding time to do all the things he's done??
So far I've only tried my hands at the Chilean empanadas, but now I'm really getting interested in Chilean cooking. This book is not only a compilation of recipes, but it gives a good idea of the background of their kitchen. Reading through the Introduction (listing names of what sounds like certain dishes I never heard of), I found that indeed their cooking is based on the European style, but with some indigenous or mestiza infusion. The writer indicates that there is not one typical Chilean cuisine (which is the same in Suriname), but rather four different styles. There is the 'daily' cooking, country cooking, home cooking and fine cuisine of restaurants and hotels. And it seems that all four are fundamentally mestiza, a mix of Spanish and indigenous, infused with the European cuisines mentioned earlier but mostly French.  Isn't that interesting!!
Merino also mentions that many of the dishes can be found in other Latin American countries with a slight variation of flavors. A good example is the empanada made in Chile, Argentina, Venezuela, Colombia and even Spain. Same idea, but different 'typical' flavors. Each country claims that empanadas are their typical snack, except that isn't really true since they all make it, one with raisins and the other with olives, and so on.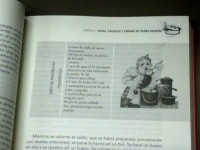 It will be an interesting journey learning more about the dishes I plan to try out. What in the world are 'pantrucas'?? Sopa de pantrucas … I know "Sopa" is soup, but I'll need my dictionary to figure out the rest 🙂 (Btw, pantrucas are dumplings.)
In closing I'd like to translate this paragraph which explains beautifully what cooking is about.
Collection: Culture in cooking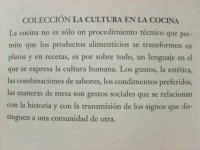 Cooking is not only a technical procedure which allows consumable products to be transformed into dishes and recipes, it is above all, a language in which to express the human culture. The tastes, estetics, combination of flavors, preferred condiments, and table manners are social gestures related to history and the transmission of other signs that distiguishes one community from another.