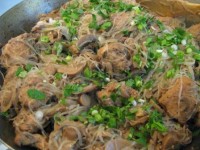 Brown chicken with mushrooms and chinese noodles, served on steamed rice… another one of my favorite dishes. My Mom would always cook something special for our birthday and this was on my list of favorites.
Mushroom chicken with chinese noodles
1 lb chicken, cut up
1 lb mushroom, sliced
1 pk beanthread or rice noodles (chinese vermicelli)
1/2 onion, sliced
2 cloves garlic, chopped
1 tsp fresh ginger, crushed
1 bouillon cubes
1/2 tsp black pepper
1/2 tsp chinese 'five spices'
2 tbsp soy sauce
2 tbsp oil
1 dl water
1 tbsp parsley, chopped
1 tbsp green onions, chopped
Heat the oil. Fry the onion, garlic and ginger briefly, add cubes, pepper, five spices and stir for a few minutes. Add the soy sauce, chicken and mushrooms, turning over until covered with the sauce. Cook for a few minutes. Once the liquid has evaporated, add some water and stir again. Turn the heat down to medium-low and let it simmer with the lid on.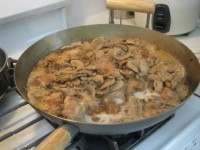 Boil some water to cook the beanthreads/noodles for a few minutes, then drain. Since the noodles are so thin, use a strainer with small holes to avoid noodles going down the drain.
Stir or turn over chicken-mushroom mix once or twice, adding a little bit of water if it's getting too dry. After cooking for about 45 minutes (or until chicken is no longer pink inside), add the noodles, turning over so the sauce gets absorbed as well, giving the noodles an even brown color. Add more water if you prefer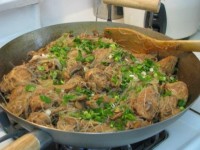 a saucy dish, because the noodles will absorb the moisture. Taste the sauce and add some salt if desired.
Sprinkle parsley and green onion over the mixture, turn over once more and turn off the heat.  Serve with steamed rice and enjoy!