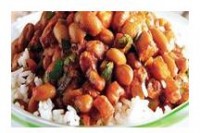 Also called "B.B. met R" which is the Dutch abbreviation for "Bruine Bonen met Rijst" (Brown/Kidney Beans with Rice).  The closest thing to this Surinamese national dish I have had in the States, is the Cajun "Beans and Rice," with Andouille (Cajun sausage) and ground meat (recipe coming soon). You could add these too, but if you want the original, just stick to the recipe below. This one is a true favorite in our family!
100 g salted (cured) beef
100 g ham
200 g boneless pork
1/2 tsp nutmeg
salt
black pepper
2 onions, chopped
1 leek
1 small green bell pepper (paprika)
1 carrot
30 g butter
2 cloves garlic, minced
1 tomato, chopped
1 can (840 g) red kidney beans
1 can (140 g) tomato puree
1 bouillon cube
1 tbs celery, finely chopped
2 tsp mushroom sauce
1 tsp worcestersauce
1 whole pepper
1 tsp sugar
Boil the salted/cured beef in water for about 10 minutes. Cut the meat in small chuncks. Cut the ham in small strips and the pork in 3 cm cubes. Sprinkle with nutmeg, salt, black pepper.
Cut the onions and leek in rings, paprika in strips and slice the carrots. Heat the butter and add the minced garlic. Fry the ham brown on all sides. Add the cured beef, pork, onion, leek, paprika, carrot and 2 dl water. Let simmer for 15 minutes.
Peel and cube the tomato. Drain the beans. Add the tomato, beans, tomato puree, bouillon cube, celery, mushroom sauce and worcester sauce. Put the whole pepper on top.
Let everything simmer another 10-15 minutes. Take the pepper out add add sugar to taste, or salt and black pepper.
Serve with rice, pickles and hot sauce if desired.  SMAKELIJK ETEN!
Tip:
Boiling the tomato for a few minutes in water, will make it easier to peel