One of the neat social activities for the conference was the "Dine-Around" in Amsterdam. After finishing a canal tour the participants were split up in small groups and guided to various fancy restaurants in the city center.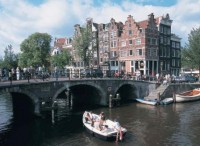 Amsterdam is home to many different cultures and the selected restaurants varied from Indonesian to German, French and Dutch cuisines. Besides the fact that it's easier to converse in smaller groups, I don't think there would be one restaurant in Amsterdam that could easily accommodate over 50 people at one time. Well, except for the hotels, but that doesn't really give you the 'taste' of Amsterdam. Compared to the U.S. everything is so much smaller in the Netherlands and within walking distance, but what I love the most is the flexibility, capability and laid back attitude to make something out of almost nothing.
This brings me to the second Italian dinner in Holland. Ponte Arcari is a tiny restaurant located at Herengracht 534 near Rembrandtsplein, in the middle of Amsterdam. It was recommended by Merlijn, my Dutch contact and planner for the conference. During the canal tour he pointed out the restaurant when the boat made a quick stop right next door, to pick up some snacks.
When we walked up to Ponte Arcari I thought: oh wow, it's so small people have to sit on the sidewalk! There were tables and chairs outside on the sidewalk, across the street and on the bridge. At first I thought it was a little bit weird and dangerous to sit on the sidewalk with cars, bikes and motorbikes passing by so close, but Merlijn grabbed a table across the restaurant on the sidewalk, almost on the bridge over the canal and I said to myself "what the heck, this is Amsterdam, go for the experience!" After a while, I had to agree that it was the best spot in the sun! Yes, it was a gorgeous afternoon/evening and we had the best view of the streets, canals, and traffic, outside the super busy restaurant!
The two servers were Italian and hardly spoke Dutch or English. One asked if I spoke Spanish, just in case. So get this: I'm in the Netherlands, at an Italian restaurant, communicating in Spanish!  🙂  ….. only in Amsterdam! Our server Emiliano was funny and tried his best to accommodate us quickly, which was not easy for two servers covering seven tables outside! He was running back and forth, crossing the street with drinks and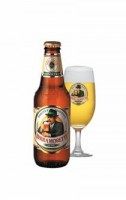 plates to serve the customers. It was a funny sight, maybe because I've never seen that anywhere before!
I tried the Birra Moretti (when in Rome …), an Italian beer (owned by Heineken) and it was a good combination with my beef tenderloin, potatoes and spinach. I know, red wine would have been better, but I was in the mood for beer which doesn't happen often. I took my first bite and was amazed! The food was excellent! Another big hit with Italian food!
Before I wrote this post, I did some research looking for a website of the restaurant. I could not believe some of the bad reviews I found online! I feel truly sorry for those patrons who had a lesser experience with their food and service at Ponte Arcari. I guess it must have been my lucky stars! Beautiful weather, great place, excellent food, good company, all in all a wonderful experience! Thanks for the recommendation Merlijn, now I understand why it is difficult to get a table at this place!
Here's an interactive photo and Google map of Ponte Arcari. You can move and drag your mouse around to see different angles of the street corner. Our table was on the right.
If you ever get to Amsterdam try to visit the restaurant; if not for the food, do it for the experience!
Come back soon for Part 3 …