Hanukkah, Chanukah, Hanukah, or Hannuka may be the best know Jewish holiday because the dates are close to Christmas. Like many, I have to admit that I used to think of it as the Jewish equivalent of Christmas. Of course the truth is different and you can learn more here about the history and tradition of Hanukkah.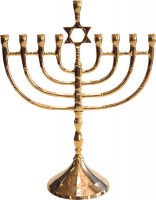 This year, the Festival of Lights starts at sundown on December 11 and ends on December 19th. The eight-day holiday is a joyful celebration that includes the traditional lighting of the menorah, exchanging gifts and eating food cooked in oil.
Gift giving is usually only extended to the young children within a family and the only traditional gift of the holiday is "gelt," small amounts of money.  Sounds like the Dutch word "geld" for money. However, their gift giving has changed over the years and especially in North America, where secular Jewish families don't want their children to feel excluded from the Christmas gift giving.
The tradition of fried food at Hanukkah is rooted in the story of the miracle of oil where a one-day supply of olive oil kept the lamp burning for eight days (see link about history above).
Depending on the Jewish family (Ashkenazi or Sephardic), traditional foods served at Hanukkah are latkes or jamfilled dougnuts, both fried in oil. Latkes (pronounced "lot-kuhs" or "lot-keys") are potato pancakes, served hot with sour cream or applesauce.
Go for it and try out this latke recipe.
Other resources: http://en.wikipedia.org/wiki/Hanukkah
Happy Hanukkah!