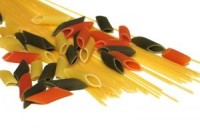 Until I moved to the U.S.A. I only knew of spaghetti and macaroni which we either used for bami, spaghetti, macaroni salad or in soup. Imagine my surprise when I saw shelves of what was called "pasta" in the supermarkets. There are so many varieties, from dried to fresh, small to large, and many more possibilities to cook with pasta. Here is a list of the different types of pasta I have personally cooked and their recommended uses.
Strands
ANGEL HAIR (capelli d'angelo)
Super thin and fragile; best served with a light broth-based sauce, because a creamy sauce would be to heavy for this pasta.
VERMICELLI
Up a scale in thickness, can be lightly tossed with olive oil, garlic, and black pepper. Also good in soup.
SPAGHETTINI
Spaghetti's thinner brother; toss with freshly made tomato sauce or use in a soup like minestrone.
SPAGHETTI
Means little string in Italian, even though it's the thickest. It is the best known pasta of the family, America's favorite to pair with meatball, fresh, jarred or canned tomato sauce topped with cheese.
Ribbons
LINGUINE
Flat type of spaghetti; absorbs sauces well and usually served with seafood sauces.
FETTUCCINE
Wider than linguine; for a richer flavor and softer texture eggs are added to the dough. Perfect pasta to serve with a creamy Alfredo sauce.
LASAGNA
Wide and flat noodles with smooth or ruffled edges; fits most casserole dishes for ovenbaking.
EGG NOODLES
Curly or straight, short and flat noodles made with egg yolks. These noodles are usually served for stroganoff, simply tossed with butter and parsley, or cooked in soup. Also comes in a version made with egg whites for low or no cholesterol.
Creative
BOW TIE PASTA (Farfalle)
Farfalle actually means butterfly in Italian. They are rectangles pinched in the middle. This small pasta is great for salads.
CANNELLONI
Tube-shaped pasta with a spinach and ricotta (or other) filling. Finish in the oven with a red or white sauce.
SHELLS (Conchiglie)
Shell-shaped small pasta (Italian pronunciation 'con-kee-lee-ay'). Good for catching thick sauces and for soup and salads.
ELBOW MACARONI
Short, curved type macaroni ('maccheroni' in Italian), very popular in the U.S. and often served with cheese. Also good in soup or salad.
PENNE
Penne means 'quills' in Italian and refers to straight pasta tubes cut diagonally at the ends. Excellent for salads or ovenbaked dishes.
RIGATONI
This is a very popular pasta in South Italy and rigatoni are large, ridged tubes of pasta with squarely cut off ends. Good for meaty sauces.
TORTELLINI
Small, cheese-, vegetable- or meat-stuffed pasta that is sold fresh or canned and maybe even semi-dried.
ZITI
Medium thin, smooth or rigged tube pasta. Ziti is great for casseroles with a red sauce.
Asian Noodles
RAMEN
Better known as instant noodle-soup, the noodles are skinny and made with eggs. Quick and easy but plain so you can add anything to complement these noodles.
RICE NOODLES
Round or flat, thin and translucent white noodles made from rice flour and water. Thin rice noodles are also known as chinese vermicelli. There are wider varieties as well.
BEAN THREAD
Made from mung bean starch, these noodles become translucent and slippery when soaked in hot water or cooked. They absorb other flavors cooked together very well. Used in soups or with meat and soy sauce.
WONTON SKINS (dumpling wrappers)
Fresh or frozen round wrappers for meat or vegetable fillings are made with wheat flour. The square wrappers are made from an egg dough for boiling or deep-frying. Usually prepared and steamed for brothy soup.
Sources: Good Housekeeping, Pasta Recipes Made Easy and Wikipedia's List of Pasta.