The Chilean empanada recipe I posted last year generated a lot of interest on this blog which tells me that people like empanadas. I would like to share one from Argentina that I received from Mariana.
There are many varieties and the Argentinian empanada usually has olives, sweet paprika (bellpeppers) and raisins, however, since Mariana tries to please her family she leaves those ingredients out.
Dough discs can be made from scratch, but they can also be found in Latino grocery stores (time saver!). Mariana recommends Argentinian "La Salteña" frozen dough discs which can be both fried or baked. Since we prefer the healthy version, this recipe calls for baking.
Ingredients:
1 tbsp oil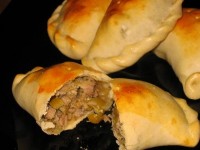 1 pound ground beef (sirloin)
1/2 onion finely chopped
2 tbsp dry oregano
1 tbsp crushed red pepper
1 tbsp ground cumin
salt and pepper
2 roasted peppers, diced
empanada dough discs
3 eggs, hard boiled and sliced
2 tbsp Spanish sweet paprika (optional)
10 green olives, pitted (optional)
1/2 cup seedless raisins (optional)
Heat the oil in a large skillet. Add the ground meat and chopped onion, saute until slightly browned. Add spices (and raisins), cook until meat is thoroughly cooked. Stir in roasted peppers and let mixture cool off.
Fill empanada discs with meat mixture add one slice of egg (and one olive). Fold and seal the empanada with some water.  Mariana sprinkles a little sugar on her empanadas.  You could whisk an egg and brush on top prior to baking in the oven for  20-30 minutes at 300 degrees.
Buen provecho!