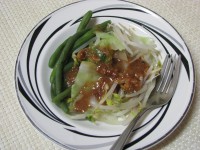 This must be one of the easiest and simplest vegetable dishes ever! It exists of various steamed vegetables, consumed with a spicy peanut sauce. Talking about NO fat! Or maybe it's low-fat due to the peanut sauce 🙂
In daily Javanese cooking however, vegetables are seldom mixed and this dish is usually served on special occasions during holidays or at parties. It is also sold at food stands on the side of the road and in restaurants.

The secret weapon to pitjil is the peanut sauce, which is available in Asian stores or markets.  The sauce can be homemade too, but it seems to be an elaborate process, so I never tried it myself. I have been fortunate enough to receive a steady supply from my family in Suriname. Maybe I can get the recipe and post on this blog for the adventurous cooks 🙂  – Update: I posted the peanut sauce recipe here.
Ingredients:
1/2 green cabbage
1 lb green beans (haricot verts)
1/2 lb bean sprouts (fresh)
1 cup peanut sauce
1/2 tsp salt
2 ltr water
Boil water with salt.
Cut the cabbage in big chunks, or 1/2 inch slices (this depends on your preference). The green beans may be fresh or frozen, cut or whole (I like mine whole). Rinse vegetables.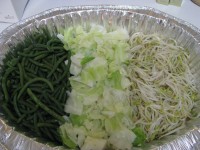 When the water boils, add the cabbage, stirring for even cooking, remove when the water starts boiling again and rinse with cold water. Follow the same procedure for the green beans and bean sprouts, cooking each separately in the same pot of water (otherwise it will take forever).
This method of cooking vegetables is called "blanching" and because the vegetables are not overcooked, they will maintain most of their nutrients.
Arrange the vegetables in a dish and serve with the peanut sauce.  Pitjil can be eaten alone, or with rice and meat.
Selamat Makan!
Tip:
Experiment with other vegetables such as nappa, bok choy, asparagus, spinach, mustard greens, etc.