This is going to sound weird, but I never knew there was a red beet salad recipe, until several years ago when Wilma put together this salad at my house. Before that I only knew how to use it
in Huzaren Salade and
as pickles to enhance a meal.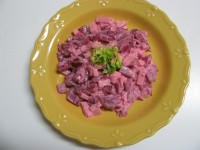 I was pleasantly surprised about how refreshing it was and have to admit that I really enjoyed the salad. At that time this blog did not exist yet so I didn't think about asking Wilma for the recipe. After having the salad again at her house last May, I had to get the recipe!
Before I started writing this post, I wanted to know more about the nutritional value of beets, so I jumped on the Wikipedia site and wow…  it blew my mind that the simple, hardly known, red beets are very good for our health!
Some of the benefits include: protection against liver disease, increase of stomach acidity,  and lowering bloodpressure. Beet juice is also used for food coloring, which in my opinion must be much healthier than artificial colourants.  It appears that beetjuice has been a traditional remedy for ages, wellknown as an aphrodisiac, in additon to treating illnesses related to digestion and blood. Who knew that the little (or not so little) red beet was so valuable to our health! I'll probably enjoy this salad a lot more from now on and hope you will too.
Not only is this salad surprisingly refreshing (beets don't have much flavor), it is also very easy to make, especially if you use my short cut tip at the end 🙂 .
Ingredients:

250 gram red beets, precooked
1 Granny Smith apple
1 sweet onion

1 tbsp mayonaise
1 tbsp salad dressing (vinagrette or Italian)
black pepper and salt
Peel the beets and chop, cube, slice or cut in strips to your preference. Finely chop the onion, peel the apple and cut in cubes. Mix everything together and finish off with pepper and salt. Add more dressing if desired.
Tips:
Add 1 tbsp freshly chopped mint or cilantro for a different flavor.
This may be frowned upon, because nothing beats fresh vegetables and fruit, but if you are strapped for time use canned beets.