If you enjoy lobster, crab claws, oysters, and clam chowders at an affordable price in a causal, welcoming and relaxed atmosphere then head on over to Spondivits!
You'd have to travel to San Francisco, New Orleans, or the Florida Keys to enjoy comparable seafood quality and service.
Being so close to Atlanta's Hartsfield-Jackson International Airport provides Spondivits access to fresh seafood 7 days a week so the restaurant's staff can get the best and freshest catches from all around the world.
The king crab is brought in from Alaska, oysters come from Louisiana and the Gulf of Mexico, and the rest of the seafood can come from just about any place around the globe.
Frankly, I think Spondivits is one of the best seafood restaurants in the South East! – But don't just take my word for it:
"For local tradition, few places in Atlanta can hold a candle to Spondivits. While the food is great, it's the party atmosphere and smiling faces that have set the place apart for the past 20 years. …The seafood is tops, while good salads, burgers and beef entrees round out the choices. Full (and lively) bar service is available".
– Yahoo Travel
"Burger-sized blackened blue crab cakes with peppery rice pilaf are a tasty entrée, but the real star here is Alaskan king crab, ordered by the pound and served in a bucket with a side of garlic bread".
– Expedia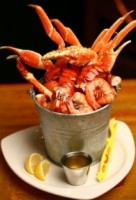 Spondivits' signature dishes are its Steamed Seafood Buckets. You can get a bucket of shellfish in any combination you like: Lobster, Lobster and Crab, Shrimp & Crab, Alaskan King Crab only or even a Combo Bucket which comes with a pound total of shrimp, lobster tails, snow and king crab. All the seafood buckets, are served with beer or garlic butter and come with a salad.
A visit to Spondivits usually starts for me with a regular Margarita, a dozen raw oysters and a tossed salad. For the main course, I like to order the Spondivits Deluxe Seafood Platter, large enough for two adults and featuring:
A Maine Lobster tail, a generous serving of Alaskan king and snow crab legs, oysters (raw or steamed), crawfish, and jumbo shrimp.
Another starter I highly recommend is the Spondivits gumbo, loaded with tasty pieces of lobster, oysters, shrimp, crawfish and andouille sausage, and served with garlic bread and yellow rice. This is the closest I've come to having good Cajun gumbo at a restaurant, outside of Louisiana.
If you're not in the mood for seafood, Spondivits' "land" offerings include sizzling Ribeyes, Sirloins, Filet Mignon and ½ lb. burgers, a variety of cold and hot appetizers, side dishes, chowders and seafood gumbos, (all steaks are 100% Certified Angus Beef).
All the food in this restaurant is prepared daily from scratch. I guarantee you will taste the difference!
Getting There
You don't really have to live in Atlanta. If you have a long stop-over at the Hartsfield airport, a 5 minute cab ride will get you there – the restaurant is less than 3 miles from the airport.
Several nearby hotels also offer complimentary shuttle service to the Spondivits airport location, including: Hampton Inn, Ramada Inn, Best Western, Embassy Suites, Marriott, AmeriSuites and Westin. (Spondivits is a perfect pre-flight party location).
Spondivits Second Location
Fortunately for those who live on the North side of Atlanta, Spondivits has managed to duplicate the great food, atmosphere and bar service from the airport location to cater to the population north of the city, where the restaurant has also become a favorite among the locals.
The North location is in Cumming, GA on exit 14 of GA 400, at the intersection of Alpharetta Highway and Highway 20. You can't miss it. There's a huge shark on the roof.  🙂
This is one restaurant where you can enjoy my No Diet Plan. Avoid French Fries or anything fried. A seafood platter or a bucket of crabs with a salad and a cup of gumbo or corn on the cob is a healthy and satisfying, nutrient-rich meal.
Liz is a freelance writer who writes about food and travel. She is the author of The No Diet Plan.