Walnuts are a super-food and one excellent source of Omega 3 fatty acids and fiber. Walnuts are great for adding to yogurt, cereals, trail mix or salads.
Below is a simple but truly delicious combination.
Ingredients: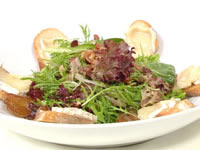 ¼ cup chopped walnuts
8 slices of French bread
1 Goat's Cheese
2 tbsp olive oil
1 tbsp balsamic vinegar
Dijon Mustard
1 bag leafy salad
1 small thinly sliced red onion
Salt and pepper
Preparation:
Toast walnuts in a non-stick pan
Preheat grill. Lightly toast slices of bread, then top each with a slice of goat's cheese and melt quickly under the grill.
Prepare salad dressing with the olive oil, balsamic vinegar, a little mustard, a pinch of salt and pepper, then toss with the leafy salad, thinly sliced red onion and the walnuts.
Top with the bread slices and serve.
You can find more recipes like this in the recipe book that's included with The-No Diet Plan Blueprint.
---
Liz has lived and traveled overseas and is the author of The No-Diet Plan.