Summer has ended but that doesn't mean you can't enjoy smoothies anymore. I found this easy smoothie recipe a while back, and it  is published here with permission of  Dinneen of  Eat Without Guilt.
The secret to making a nice, thick smoothie is to use frozen fruit.  I always buy frozen berries at the supermarket and keep my fridge stocked with them. 

Ingredients: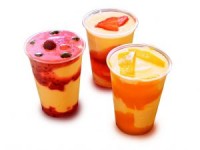 1 frozen banana (see tip below)
1/3 cup frozen berries (strawberry, raspberry, blackberry)
1 1/2 cups of 2% milk
1 tablespoon honey

Blend all ingredients.  If you want your smoothie less thick, add a few ice cubes. 

Makes 2 servings.

You can also play around and add more or less milk and/or banana and berries.  It's really a matter of personal taste.
Tip:
To freeze the banana – take RIPE bananas, peel them, place into a Ziploc or freezer bag and put them in your freezer.  That's it! They'll last 1-2 months.