France is a great country! I love their relaxed way of living especially at the country side. Last month my husband, our foster child and I went to France. We stayed at the holiday home of our friends which is situated in the middle of France. The area is called 'Le Creuse' and the small village we stayed at is called 'Les Braçons'.
Almost every day we went out to discover the area. But before really starting the journey we stopped at the first café we could find to have our café au lait. Our experience with french coffee is that they like it very strong!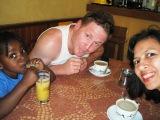 On our journeys through the area Le Creuse we discoverd lovely villages such as La Souterraine where we went to a mini circus.
Another very nice city is Montluçon where I had a shop till you drop day. They had nice clothes and the shop assistants were very friendly. 
Because my husband's french is fluent, almost everywhere we met kind people. I still have to learn it, but it's on my list!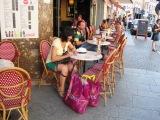 Our food experiences in France weren't extreme this time.
We started every day with an outside breakfast with ofcourse delicious french bread, croissants, jelly, cheese and so on.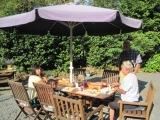 At lunchtime we ate at different places outside depending on where we were at that moment. French bread with butter and ham is very delicious even though it's very simple. And their different kinds of salad are very good.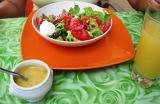 Our dinners were late in the evening because the french don't have their extensive dinners early. Because I love to barbecue we did it twice and had french guests coming over, friends of our friends. We had chicken, fish, pork, salad, french bread, zucchini, lots of wine and so on.
Enjoying a delicious dinner outside with dutch and french friends and all the kids makes us say: Vive la France!