After having Colombian steak at El Arepaso in The Hague, I went looking for a Colombian steak recipe and found this one on the NY Times web site.
The Colombian green sauce makes this dish very refreshing, due to the lime juice and vinegar. If you don't like hot & spicy, you can reduce the number of peppers, leave them out or replace with a green tomato.
This recipe is definitely worth a try. Serve with steamed rice and vegetables or go Colombian and serve with yucca (cassave) and sliced cucumber and tomato.
~~ Buen provecho! ~~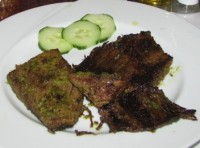 For the steak:
1 large onion, finely chopped
2/3 cup orange juice
2 teaspoons salt
1 teaspoon black pepper
2 1/2 to 3 pounds flank or skirt steak
For the sauce:
5 green jalapeño chili peppers, stemmed and seeded
3/4 cup chopped scallions, white and pale green parts
1/4 cup chopped cilantro
2 tablespoons cider or white vinegar
2 tablespoons fresh lime or lemon juice
1 teaspoon salt.
Combine onion, orange juice, salt and pepper and pour over steak. Set aside to marinate at least 4 or up to 8 hours. (Do not marinate overnight; meat will become mushy.)
In a blender, combine jalapeños, scallions, cilantro, 2 tablespoons water, vinegar, lime juice and salt. Blend until smooth. Refrigerate until ready to serve, up to 8 hours. Taste for salt, vinegar and lime before serving.
Heat a grill to very hot. Lift steaks out of marinade, season with salt and pepper to taste, and cook without moving until dark brown and crusty on bottom, about 10 minutes. Turn and continue cooking 5 to 10 minutes more, depending on preferred doneness. Serve steaks with sauce.
Yield: 6 to 8 servings.
Source: NY Times, published: August 20, 2008