Somewhat of a delay in posting the final part of my culinary adventures, but blame that on technology.  After finishing the article, complete with picture gallery, I clicked the Submit button and …. oh no!! My entire article disappeared to Lalaland! Needless to say I felt very much like crying (after cursing a bit), but I didn't. At least I still had a rough draft somewhere, which I used to 'rebuild' part 3.
Post-wedding
Fun in Amsterdam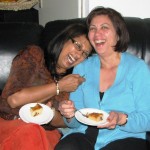 Saturday was a lazy day after the wedding and we were meeting my friend in Amsterdam. Shirley was preparing roti (Indian flat bread) with masala (curry mix) chicken and potatoes. She wanted us to try her special masala, one that even a sensitive stomach could handle. In spite of having printed directions, we got lost in her neighborhood for almost an hour before we asked her to come rescue us. It was around 7 p.m. so you can imagine that we were really hungry by that time and the roti hit the right spot! For dessert Shirley offered her homemade bojo, a sweet yucca-coconut pie, one of my favorites.
Lunch in Heemstede
After church on Sunday we visited our friends Sonja and Humphrey in Heemstede and were invited to join them for a cup of peanut soup. Yes, that's soup made with peanut butter. I love peanut butter, but peanut butter soup is really my all-time favorite soup and Sonja makes a killer 'pindasoep'. It is made from chicken broth, chicken, plantain dumplings and dissolved peanut butter. Be on the look out for the recipe.
Amersfoort day trip
Sunday afternoon was reserved for Amersfoort to visit my brother-in-law's sister Paula who owns a bed & breakfast. The city would celebrate its 750th birthday the following week and unfortunately we missed that. I took pictures of the oldest church in Amersfoort (St. Joris), located right across Queens, Paula's B&B. The weather was gorgeous and everyone was relaxing outside. We ordered some snacks (bitterballen, olives, etc.) and enjoyed Jillz, a sparkling apple cider blend (5% alcohol) and good alternative to beer (for most women). While sitting outside, we heard music and singing voices coming from the narrow alleys. Ever heard of a Beer wagon? Coming at us was a bar on wheels called "Het Fietscafe" (Bicycle Café) where the customers had to pedal to get around! It was hilarious and I could not resist taking pictures. Of course the picture doesn't tell all, since you can't hear the Dutch polka music blaring through the speakers, adding to the jolly mood. It was a short but interesting visit to Amersfoort.
Last dinner in Den Haag
Sunday night Grace and Donald took us to their favorite Latin restaurant.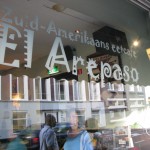 We were excited and looking forward to have some Colombian arepas at El Arepaso. The variety of cuisine in Holland is truly amazing!
The ambiance was good, and the waiter was a friendly Colombian who allowed us to practice español. We ordered picadas (mixed meat fingerfood), creamy fish and beef dishes. After chatting for a while, our stomachs started growling and we realized that we had already been waiting for an hour.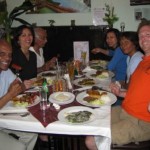 The server explained that they were shorthanded but promised that we were next. "Next" lasted another 30 minutes and we were so ready to walk out! This was taking Latin-time to the extreme! Grace never waited more than 30 minutes, but noticed that the owners were out, which may have been why things were not running as smoothly.  By the time the food came only few of us really enjoyed our meal. Waiting too long and getting overcooked food is not exactly good advertising, but hey, it can happen anywhere. Fortunately the majority was tasty and we had fun chatting.
Going-away party in Leiden
Monday was a holiday in Holland and we had invited some friends and family over before heading back to the U.S. the next day. Our hostess Wilma did most of the cooking, but some friends brought kippepastei (chicken potpie), bami, bojo and my mom brought her famous Javanese chicken (the real deal!). Wilma cooked wonton soup, a super moksi alesi (rice dish) with pumpkin (!), coleslaw, spareribs and vegetables. For dessert we had bojo  and/or ice cream. Everything tasted really good and we wished we could have stayed longer, but unfortunately it was time to start packing.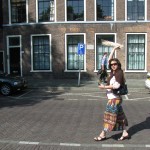 As you can see, the whole trip was like a food fest and I'm afraid my waistline would really suffer if we had stayed any longer. I have to admit though, that obesity is not such a problem in the Netherlands as it is in the U.S.A. This is probably due to some factors, including smaller restaurant portions, cost of food, and having to ride your bike or walk a lot after parking or using public transportation. Like the French, the Dutch eat or cook with real butter, eat lots of bread and cheese, use mayo on their fries, but still manage to look thin. Restaurant food is expensive, and I remember paying €11  for a whole (uncooked) chicken, that's about $13.50 for a regular size chicken, not exactly cheap!
Fortunately eating was not all we did, but since the purpose of these posts was to keep it related to food I wanted to share my adventures.  I hope you enjoyed reading them.
Our Dutch trip was wonderful: we came to see, meet, eat, and party. What more could you want? THANK YOU to our family and friends for hosting us, feeding us and most of all entertaining us. See ya'll next year? Tot ziens!