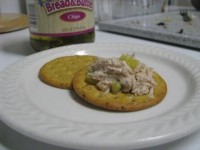 A couple of weeks ago we went to a concert at Chastain Park in Atlanta with some friends. Everyone would bring a dish and since it was a hot summer night, we decided to bring salads. As appetizer we made a smoked chicken salad on crackers and shrimp potato salad served as the main dish (recipe will be posted soon). The appetizers came out so good that we ate way too much and at the end of our meal we barely had room for the cheese cake desserts!
For this recipe we used our homemade smoked chicken, mainly because we can't find it in the stores, but you could probably substitute with smoked turkey.
Ingredients:
200 g smoked chicken (breast)
3 tbsp spreadable (extra) sharp cheddar cheese
2 tbsp shredded mozzarella cheese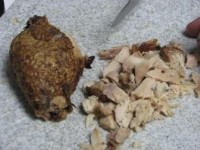 3 tbsp mayonnaise
6 mini pickled onions
1 clove garlic
1/2 tsp paprika
white pepper
1/4 tsp cayenne pepper

Chop the garlic first, then add the chicken and other ingredients. Chop until you reach the desired texture (some like their salad smooth and others like it more coarse). We didn't add anything else than what's listed above, but feel free to finish to taste adding salt, pepper or vinegar.
We served the smoked chicken on vegetable crackers which complemented the salad nicely.
This is a real simple recipe and the only problem you'll have is to stop "testing" the salad! 🙂
Enjoy!