I got this quick salsa dip from my Irish friend Ruth, who loves Mexican food! It's really too easy to mess up and much better than salsa in a jar.
Serve with tortilla chips.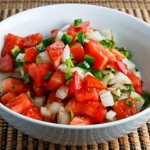 2 tomatoes
1/2 red onion
1 green chilli (or red if you prefer, green just looks nicer)
juice of 1/2 lime
Chop all of the above finely, mix together and enjoy.  Keep in the fridge if you're not using it immediately, but it only stays fresh for about 24 hours.
Photo: Closet Cooking
Tip:
Salsa is also called 'Pico de Gallo' and to make it more Mexican, you can add some freshly chopped cilantro.