The Wedding week in Den Haag.
Throughout the week we had home cooked meals prepared by Mom or me. Curry fish, eggplant or bitter melon with shrimp or cured beef, pom. One day I cooked spaghetti and on another day, chicken in soy sauce with rice and cauliflower. Nothing fancy since we were doing finishing touches for the wedding.
Boerendochter?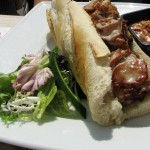 We went out for lunch to this cool place at a pond, sitting in the sun. I never sit in the sun, but after experiencing the cold breeze that goes through Holland sometimes, I could understand why the Dutch love to bask in the sun! My lunch consisted of a small loaf of French bread with grilled entrecote (pork tenderloin), lettuce and peanut sauce.
My dad selected some kind of omelet called "boeren dochter" (farmer's daughter) but when it was served,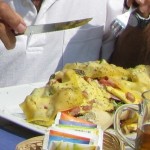 he was startled by the size. It appeared to be a huge omelet and he promptly said: "oh no, that's not the daughter, it must be the "boerin" (farmer's wife)". We were all laughing, including the waiter.
Vleesbroodje or Empanada?
Most department stores I've visited in Holland have a lunchroom. How convenient is that?! We were in the HEMA one day and decided to grab lunch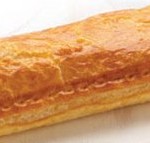 before starting our shopping marathon. A cup of coffee sounded really good and I have to say that I never drank so much tea and coffee in my life, but now I know why Europeans do (to stay warm? and… to take a break!).
The cafeteria served pastries, sandwiches, muffins, cookies, and my favorite item: 'vleesbroodjes!' A savory pastry-like sandwich stuffed with (ground) meat, that I grew up on in Suriname. Never found anything like it in the States, except for Empanadas which taste totally different. This was Déjà vu after 20 years!
Best patat in Den Haag.


On another occasion Grace took us to the best patat in Den Haag. We had to go shopping first to kill time, because the owner had not even opened his mini cafeteria yet. Honestly, that place could not have been bigger than my dining room! But the patat (French or I should say 'Dutch' fries) were really good, served with mayo and peanut sauce, both very common in Holland. Yes, I noticed it too, peanut sauce goes on anything. I'm used to it in Javanese cooking, but the Dutch throw it on anything! Interesting combination, but it tasted great!
Lunch after decorating in Scheveningen.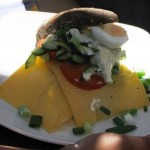 Day of the wedding we had lunch at the Beachclub Copacabana in Scheveningen after decorating for the wedding later in the afternoon. I decided to get a salad with chicken and avocado and was pleasantly surprised. My cousin had a "broodje gezond" (healthy sandwich) piled with lettuce, tomato and cheese, which must have been a good 5 inches (10 cm) high.
Wedding dinner at Copacabana (Scheveningen).
Dinner during the wedding looked and was great! Didn't eat much, since I was coordinating, but I remember the tomato-mozzarella cheese salad, potato salad, coleslaw, fries, grilled chicken,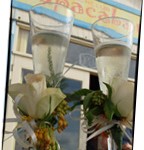 steak, gambas (huge shrimps), pork, fish packets, courgette (zucchini) and more. Wow, it was another food fest. Late night snacks: barras (spiced Indian dumplings) and loempias (Javanese eggrolls). The day before my husband had prepared fruit punch from various tropical fruits such as papaya, pineapple, oranges, guava, some of which were freshly squeezed or blendered. The wedding was super! Good food, good atmosphere, fun people, good DJ, bachata dance lesson, salsa performance, flamenco performance (me), yes, it had been a lot of fun.
If you missed it, here's Part 1 or go to Part 3