Honey I'm baaack!!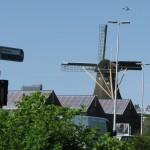 It's been weeks since my last entry, but for a good reason!
At the end of May I went to Holland for my sister's wedding, taking some time to visit friends and family as well. Whenever we go see family, it's ripping and running (as much as jetlag allows) and there is not much time for checking emails let alone write a post. But, it was a great trip, great weather, great food, not-so-great food, great people, you get the drift.
I'll spare the details, but back in the U.S.A. it took us almost a month, between jetlag, a new granddaughter, and the Sranandei celebration, to get back into our normal routines.
Since it's food-related, I'll cover the Sranandei celebration in a separate post but if you want to know what it's all about, go to our Sranandei blog.
Now that I've got my reasons for being 'quiet' in June out of the way, I can get to the real topic of this post: my culinary adventures in Holland.
We did not eat out a lot because family and friends invited us over for lunch or dinner and that was great for several reasons. We ate home-cooked food of excellent quality, enjoyed some traditional dishes prepared by experts in our circle of friends, family, and it saved us a bundle. Eating out is NOT cheap in the Netherlands and you'll easily spend €15 ($20) per person on a simple lunch that includes a sandwich with juice and/or coffee. Still, most restaurants and cafes I saw were crowded, probably due to the really nice weather.
Birthday in Almere.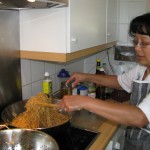 Our first (big) dinner was at my friend's place in Almere. Susan was celebrating her birthday on Saturday and took two days to cook for her party. All she allowed me to do was washing the dishes, cutting onions, and taking it easy. I'm used to helping out where ever I go so it made me feel restless and guilty, but she was firm.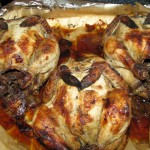 The food was great and she is officially my "superwoman" friend, cooking
everything by herself in two days. Not unusual? Wait until you see the list: bami, roasted chicken, pitjil, sambal, sweet and sour duck, roasted pork, satés, pom, bojo, prune rum cake, and more.
Dinner in Leiden.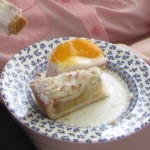 On Sunday we stayed in Leiden and ate dinner at Wilma's who prepared chips (fries) and fish, with a killer red beet salad (I need to get the recipe). Dessert? Dutch apple pie (called appelvlaai) and my favorite: 'kwarktaart' with peaches, a thick yoghurt-like pie . It was awesome!
Birthday in The Hague (Den Haag).
On Monday Donald, my brother-in-law, invited us for dinner to his favorite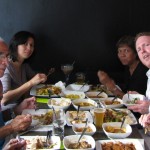 Indonesian restaurant, Dulang, in Den Haag to celebrate his birthday. The "Indonesische rijsttafel" is very popular in Holland and consists of at least 10 small dishes with a variety of food such as: chicken, beef, goat, pork, boiled eggs, stewed in a curry or tomato sauce, beef stir fried in coconut (dry), chicken/beef saté, vegetables with peanut sauce (pitjil) and steamed rice.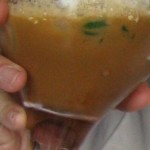 My sister recommended as appetizer (normally served as dessert) a huge coconut drink with green syrup and young coconut 'meat'. Never had it before but it was delicious!
(to be continued)