I love Portugal! Maybe it's because of my roots. My greatgrandfather was born at Madeira which is a Portuguese island. I've already been to Madeira a few years ago and it's a lovely island. This time my husband and I went to Portugal to celebrate our honeymoon.

Portugal is a beautiful country, especially the west coast, with very friendly people and a lot of bakeries named 'pastelaria' in Portuguese. Every bakery has a lot of cakes and cookies and in each bakery we discovered new kinds.
In the small city Luz in the Algarve where we stayed for a few days, we had our daily breakfast at the lovely local shop (not touristic because we don't like that) 'Pastelaria 1001 Delícias'.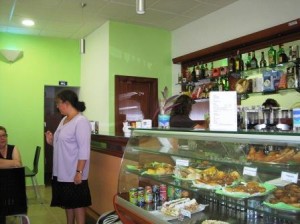 The owner was very friendly and her sister-in-law as well. After we had our breakfast which existed of delicious fresh bread with the famous 'presunto' (salted ham), fresh orange juice and 'galao' (caffe latte), she even let us taste the local delicacy. It is called 'percebes' which are really ugly (almost science-fiction-like) small shellfish. She had cooked them in water with salt. I first hesitated to try it because it looked too weird to eat. But the taste wasn't that bad; it wasn't that special either. Now at least I know how percebes tastes.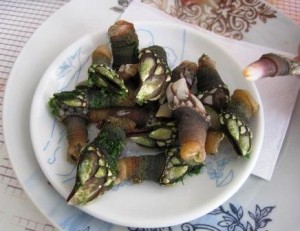 One of the best dishes I had in Portugal was a fish named 'sargo'. It is an ugly fish (not as ugly as the percebes) but very tasty when it's fried. It came with rice and a fresh salad.


For the sargo, the pastelarias, the beautiful beaches and the friendly people we will visit Portugal again!