A few weeks ago I came across an article on CNN providing some healthy tips for eating out. The topic is definitely getting more attention nowadays, because just this morning I saw on the news how fat affects your bloodstream after eating 'bad' food and 'good' food.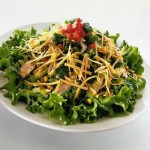 Although most Americans want more healthy choices in a restaurant, they don't always go for it. As a matter of fact only 20% of about 2000 polled earlier this year, indicated health food as an important factor. Of course this is a small sample of the entire population, but considering that 2/3 of adults in the U.S. are obese, there must be some truth in the numbers. Source: Trust for America's Health
The CNN article highlights the healthier options in a variety of restaurant, most of which I already (intuitively?) knew.
Chinese.
In general I find Chinese food in the U.S. a lot saltier then in Suriname or Holland, especially in dishes with (brown) sauce. The same goes for grease content. My preference is steamed rice with a vegetable/meat stir-fry dish. Stir-fry dishes are good because they are cooked quickly with a little bit of oil at very high heat.
Although whole-grain bread is highly recommended, I have to admit that I prefer French bread when buying a sandwhich. Fortunately this doesn't happen too often because I normally choose things I can't make well or at all. I hardly use any butter or mayo on my bread and don't stack up on deli meat because I still want to taste the bread.
Imagine my horror when I found this website with pictures of artery clogging sandwiches that would make you fat just looking at them!
Italian.
Steer away from anything deep-fried or cooked in butter, instead go for grilled, broiled or poached. And if you must have something with butter (because it tastes so good!), be very conservative. Good thing I can't stomach dishes that are too rich or creamy.
Japanese.
Since I would prefer tempura over sushi (I know, I know, it's totaly wrong), I'd better stay away from these restaurants. Tempura is deepfried food, coated in a light batter. The funny thing I discovered is that this Japanese dish is from Portuguese origin!
Sushi may be healthier because it involves fermented rice and fish that is usually salted, but I can't get over the smell and taste of uncooked fish. Nevertheless, a lot of people I know love sushi and can eat it almost every day.
More on Tempura or Sushi.
Steakhouses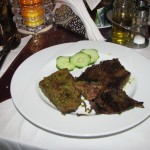 On special occassions and if I'm in the mood for it, I'd like to have a steak. However, I would never choose that 12 oz slab of red meat. A fillet mignon is plenty and honestly, going to a Brazilian or Argentine steakhouse is wasted on me because I just can't eat so much meat. But for those who do like it, which in my experience are usually guys, it is recommended to go for the lean cuts (sirloin) or to split a dish.
Mexican.
Glad I never really liked burritos because those are killer when filled with cheese and meat. My all time preference is fajita beef, chicken or shrimp with grilled vegetables or a salad. Refried beans seem to be a big no no, but who can resist the avocado guacamole? Fortunately avocados contain the good fat.
As you can see, dining out can be a heatlhy experience depending on the choices you make. I also think that moderation plays a big role in eating healthy, whether at home or in a restaurant. If the restaurant portions are big, either split or take half of it home for later. Not only is it healthier, but doing so can save you money too.
Read the entire CNN article on heart healthy food.
To learn more about Good Morning America's report, go to how fat affects your bloodstream.