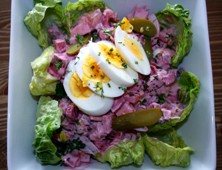 This is one of my all time favorites: Huzarensalade, a delicious (pink) potato salad that could be served as a meal salad or as an appetizer.
So where did the name come from?
The Huzaren were Hungarian riders of origin, fighting for the Imperial Austrian armies against the Turks. Huzaren were especially useful to explore hostile territory and once entered they had to blend in with the enemy to remain unnoticed. This made it impossible to burn a fire for cooking, so the Huzaren took prepared food along. By mixing this food a cold salad was created which was soon know as 'Huzarensalade'. (Source: Wikipedia – The Netherlands; Photo courtesy of www.eatdutch.com)
There are many variations of the recipe available, and this is the Surinamese version I grew up with. Huzarensalade is usually served on special occasions, like birthday parties and weddings.
250 gram steak, cooked & diced
2 tart apples
8 cold, boiled potatoes
bread & butter pickles
pickled onions
½ can corn, drained
½ can beets, diced
½ cup mayonaise (add more if desired)
1 tbsp ketchup
salt & pepper
Decoration:
2 boiled eggs
1 sliced tomato
lettuce
parsley
Cut all ingredients in small pieces or cubes, including the potatoes unless you prefer mashed potatoes. Mix the potatoes with steak, apples, pickles and onions with mayonaise and ketchup. Add the rest of the ingredients, salt and pepper to taste. The beets will give the salad a pinkish/purplish color which makes this salad so unusual. You can add some of the beet juice for more color. Add some vinegar or mostard if desired, and a teaspoon of sugar to balance the flavors.
Place the lettuce leaves on a serving plate and pile the salad on. Spread some mayo and ketchup over the salad, decorate with sliced eggs, tomatoes and finish off with parsley. Chill the salad for 1-2 hours or prepare a day or two in advance.
Huzarensalade can be served as an appetizer, alone or with crackers or bread cups. It can also complement a meat dish or barbeque. If you like to serve unusual dishes, you have got to try it. I guarantee that you will get at least one person asking why the salad is pink. I hope they will be as pleasantly surprised!
Tip: Substitute the steak for cooked or grilled chicken.
You can also make it vegetarian and leave the meat out.
Smakelijk eten!