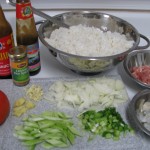 A few weeks ago I was in the mood for making Chinese fried rice, but it would be one of those what-you-have-in-the pantry dishes. Not the way to go when preparing a dish, but sometimes you have to adapt to the situation and I didn't feel like going to the grocery store that day.
I had Jasmine rice and some of the other important ingredients for this dish, so it would work right? Wrong!! It doesn't matter what you have, if you don't have the right type of rice, or cook it the right way, forget it!
In spite of using my own rice cooking tip (less water for dryer rice), the rice appeared to be a little bit, um, on the soft side. So I thought I'd let it cool off a little then turn over to loosen up the kernels. To my horror the rice remained clumpy. What was I to do now? I couldn't throw away all this good rice? (Mom's voice in my head was reminding me to be respectful of food and not to let it go to waste.) So I took the courage to try cooking the fried rice with the lumpy bundles, which I would just pry loose in the wok.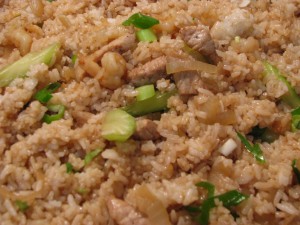 I was shooting some pictures of the cooking process but how was I going to put this on the blog? I could pretend that this is how it was supposed to look. But I decided to be honest and let my readers know, that no matter what you prepare, it is important to use the right ingredients. I used what I had nearby, but as you can see in the pictures, Jasmine rice is not exactly the right variety for stir fry dishes. I love steamed Jasmine rice, served with meat and vegetables, but it is just too soft to be used for fried rice. Even though the dish tasted right, the texture was not and I was not a happy camper.
Lessons learned: don't use Jasmine rice for fried rice. I should have taken a few extra steps and gotten either the basmati or parboiled rice from storage. Rice is not rice! Learn more about the different types of rice here.
I'm still posting this story and recipe with pictures, so you can learn from my "less successful" cooking experience.
4 cups cooked (long-grain) rice
1 sliced onion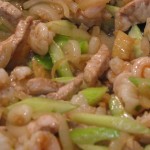 2 stems green onions, sliced
2 cloves garlic, crushed
2 slices fresh ginger, crushed
2 small boneless porkchops
1/2 lb peeled, raw shrimps
celery, sliced diagonally
black pepper
2-3 bouillon cubes
1 tbsp oyster sauce
2 tbsp soy sauce
1/2 tsp Chinese Five Spices
oil
tomato & pickles
(optional: fried egg)
Pre-heat the wok or pan before adding oil and fry the onions, garlic and ginger for a few minutes until glazed. Add the bouillon cubes, five-spices, and pork, stir fry for 3 minutes, then add the celery. After 3 minutes, add the oyster sauce and toss the shrimp in while stirring for another minute. Gradually add the rice, turning over the mixture, pouring the soy sauce over the rice. Frequently turn over the mixture until the rice has an evenly brown color from the soy sauce. Finish off with black pepper or more bouillon/salt as desired.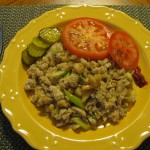 Optional: whisk 2 eggs and fry in oil like an omelet. Roll up fried egg, cut in thin slices and serve over the rice with sliced tomatoes, pickles and hot sauce.
Enjoy!