A couple of years ago, I found I fun way to generate, plan and organize ideas. It's called "mindmapping" or "ideamapping".  Follow this link to read more about how I found out about this.
I have used this technique for a wide variety of things. From business planning to organizing a party, from website planning to dinner planning, mindmapping can be used for almost anything.
One of the reasons I like it so much, is that you can have all the relevant information on one page and quickly overview details of what you are planning. Another reason is using markers, pencils, highlighters for color and graphic images for visuals, which makes the entire process more playful (and have your inner-child come out).  Although, I have to admit that sometimes I don't use more than one color pen, but the map still gives me what I need.
The map below is an example of how I plan cooking a meal, in this case I used it for Saoto soup.  This soup has a lot of ingredients and it happened in the past that I would forget one or two. Not anymore! The map has everything on it, and there is no way to forget something because it can be used as a checklist as well.  Check it out and let me know what you think about this.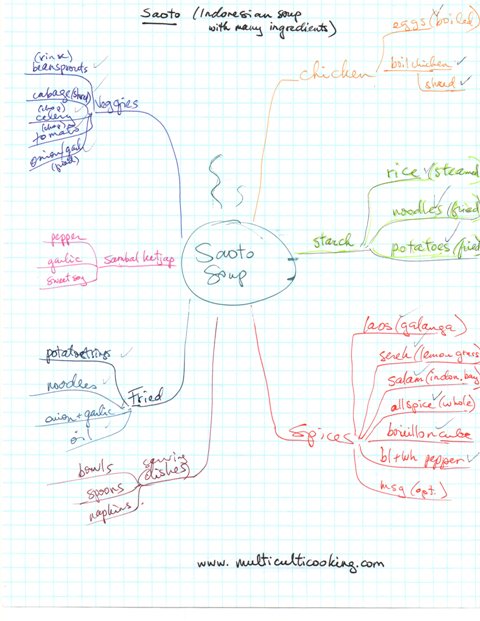 To learn more about idea- or mindmapping, you can go to the original website, or use the link to buy the book.
Happy mind-/ideamapping!