When I grew up, we always had vegetables for lunch or dinner. In fact, my Mom always cooked more vegetables than meat, but the way she prepared the veggies was so delicious that we didn't even miss the meat or fish.
She used the stir fry technique a lot, which keeps the vegetables crunchy, while maintaining the nutrients. Until today I am still doing both, have vegetable with every meal and use the stir fry technique. There is so unbelievably much you can do with vegetables that I can't imagine ever to run out of inspiration. This recipe is my own creation but the vegetables could be substituted for others.
1/4 onion, sliced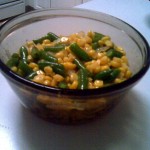 1 garlic clove, chopped
1 lb green beans, frozen or fresh
1 can of yellow corn
1 bouillon cube (or 1/2 tsp salt)
black pepper
1tbsp oil
Heat the oil and stir fry the onion and garlic for a few minutes. Crunch and add the bouillon cube, stir in the pan. Add the thawed beans and the corn, stir and cook covered for a few minutes. Add the blackpepper and more bouillon or salt to taste. Total cooking time should be no more than 15 minutes, depending on the beans. The fresh beans may take a little bit longer. Same goes for beans that have not been thawed.
Serve the vegetables with rice or potatoes and meat.
Bon apetit!