Here's a spicy variation of the Javanese Chicken, which is how I prefer to prepare this dish.
The difference with the regular Javanese Chicken is that I use some curry, fresh Habanero, Scotch Bonnet or Madame Jeannette peppers and a little bit more sugar.
1 lb chicken, cut up
0,5 onion, sliced
3 cloves garlic, chopped
0,5 tomato
0,5 tsp black pepper
2 tbsp celery, chopped
2 bouillon cubes
2 tbsp oil
2 salam leaves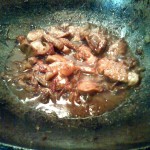 4 slices laos or galanga root
1 whole fresh pepper (Habenero, Scotch Bonnet, Madam Jeannette), sliced
1 tsp curry or massala powder
3 tbsp sweet soy sauce
1 tsp sugar
1 dl water
Heat the oil. Fry the onion first before adding the garlic, stir until slightly brown. Be careful not to burn onion or garlic because it will turn bitter. Add the tomato, salam, curry, pepper, laos, black pepper, sugar, bouillon cube, celery, soy sauce and stir. Cook for a few minutes until the tomato is almost dissolved, then add the chicken turning it over until it's covered with the sauce. Cook for a few minutes. Once the liquid has evaporated, add some water and stir again. Turn the heat down to medium-low and let it simmer with the lid on. Stir or turn over once or twice, adding a little bit of water if it's getting too dry. After about 45 minutes, sprinkle some celery over the chicken, turn over once more and turn the heat off. This chicken dish goes very well with Javaanse Bami or Nasi Goreng, served with pickled cucumbers.
Tips:
To reduce the "heat" of the fresh pepper, you can remove the seeds, or add a little bit more sugar. Another tip is to partially slice it instead of cutting the pepper, and cook whole. Once the chicken is done, remove the whole pepper.
Serve with steamed rice and vegetable medley for variety.
Selamat Makan!