This recipe is a variation of the "Creamy Lemon Meringue Pie". My fiancee loves it so much that he  "made" his mother give me the recipe. She got it in Canada where they lived with the family for a few years and where he was born. Now that I know how to make the pie, he loves me even more.   As the saying goes: "the way to a man's heart is through his stomach."  🙂
Ladies, never underestimate this saying, so try this recipe and maybe your boyfriend will stick with you!
Mix the following ingredients to make the dough for the bottom crust:
1¼ cup flour
100 gram butter
4 tbsp water
salt
Chill the dough in the fridge for about 20 minutes. Roll out the dough to cover the bottom of the pie pan and bake at 225 degrees until it is light brown (about 20 min).
For the filling:
¾ cup granulated sugar
3½ tbsp cornstarch
½ tsp salt
1¾ cup scalded milk
2 eggs separated
1 tsp grated lemon rind
¼ cup lemon juice
2 tsps butter
small baked pie shell
¼ tsp vanilla
Measure out ¾ cup sugar and mix with cornstarch and salt.
Stir in scalded milk.
Cook in double boiler, stirring constantly untill the filling is smooth and thick. Cover and continue to cook, stirring frequently until the cornstarch is fully cooked.
Beat egg yolks slightly, adding part of the hot mixture, then pour back into the double boiler. Continue to cook for another minute while stirring constantly.
Remove from heat and stir in lemon rind, lemon juice and butter.
Cool slightly and pour into baked shell.
Beat egg whites stiff, but not dry, gradually beat in remaining 2 tbsp. sugar.
Continue to beat untill the meringue stands in peaks, adding vanilla. Spread mixture over pie filling and bake in moderate oven (350 degrees) until meringue is slightly browned.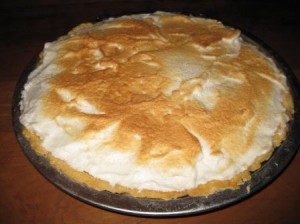 Enjoy!