Javanese chicken and bami are often eaten together in Suriname and can be found in many "eethuisjes" or "warungs" (Mom-and-Pop eating places). This is one dish that could be called a typical or traditional dish because it is very popular among the Surinamese people.
After slavery was abolished, many immigrants were "gathered" (or tricked, depending on how you look at it) to work on the plantations in Suriname. One group of immigrants included the Javanese, which is the source of Javanese food in Suriname. It's one of my favourite types of food because we grew up on it, surrounded by our extended Javanese family.
Warning: Once you have tried this chicken dish you will keep on preparing and eating it! It's simply the best!  ~  ENJOY! ~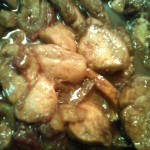 1 lb chicken, cut up
0,5 onion, sliced
3 cloves garlic, chopped
0,5 tomato
0,5 tsp black pepper
2 tbsp celery, chopped
2 bouillon cubes
2 tbsp oil
2 salam leaves
4 slices laos or galanga root
3 tbsp sweet soy sauce
0,5 tsp sugar
5 pcs allspice, whole
1 dl water
Heat the oil. Fry the onion first before adding the garlic, stir until slightly brown. Be careful not to burn onion or garlic because it will turn bitter.  Add the tomato, salam, laos, black pepper, sugar, all spice, bouillon cube, celery, soy sauce and stir. Cook for a few minutes until the tomato is almost dissolved, then add the chicken turning it over until it's covered with the sauce. Cook for a few minutes. Once the liquid has evaporated, add some water and stir again.  Turn the heat down to medium-low and let it simmer with the lid on. Stir or turn over once or twice, adding a little bit of water if it's getting too dry. After about 45 minutes, sprinkle some celery over the chicken, turn over once more and turn the heat off. This chicken dish goes very well with Javaanse Bami, served with pickled cucumbers.