Lemon Meringue Pie is one of my top favorite desserts (well, next to Key Lime Pie). I like the "lightness" after a full meal, and the combination of sweet and tangy with a bit of creamy is for me the best way to end dinner.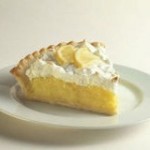 The following recipe was shared by my co-worker Michael at the international potlock we had at the office around Thanksgiving. Michael did a great job and the pie was gone shortly after it was served. Hey, it can't be too difficult if a guy can bake the perfect Lemon Meringue Pie, so give it a try!
Okay, you know I was just joking right? (Michael's line)
Because we all know that some of the best cooks are men, so don't throw anything at me 🙂
Ingredients:
1 8 or 9" graham cracker crumb crust
3 egg yolks (reserve whites for meringue)
1 can of Eagle Brand condensed milk
½ cup of ReaLemon lemon juice
¼ teaspoon of cream of tarter
1/3 cup of sugar
Preparation (Filling):
· In a medium bowl, beat egg yolks; stir in Eagle Brand and ReaLemon.
· Pour into crust.
Preparation (Meringue):
· Preheat oven to 350 degrees.
· Beat egg whites until soft peaks form.
· Mix in cream of tarter and sugar; beat until stiff, but not dry.
· Spread on top of pie and bake for 12 to 15 minutes or until golden brown.
Let cool, refrigerate before serving.
Enjoy!