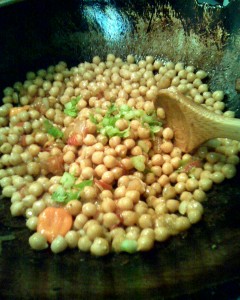 Gugri or channa is the Indian name for chickpeas or garbanzo beans and I remember my mom preparing gugri for special occassions only. She would make spicy gugri as an appetizer or snack, but then with more of an Indonesian flavor than Indian. It was one of our favorite snacks, but she probably didn't make it often because the dried peas had to be soaked for a long time (1-2 days?). Other than that, this dish is very easy to make and economical too. Since I'm all for simple and convenience, I am using canned chickpeas below.
Mom's Spicy Gugri (Indonesian style)
1 tablespoon vegetable oil
1/2 cup onion, chopped
2 cloves garlic, chopped
1 cup fresh tomato, chopped
2 slices galanga root (Hawaiian ginger)
1/2 teaspoon curry or masala
1 can chickpeas, drained
1/4 cup water
1 or 2 (depending on your tolerance) fresh habanero or scotch bonnet peppers, sliced
1 tsp sugar
1 bouillon cube or salt to taste
2 tbsp chopped celery or parsley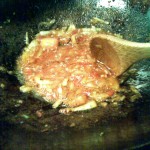 Heat the oil in a large skillet, then add the onion and garlic, cook until softened and beginning to brown. Add the tomato and galanga, stir and cook for a couple of minutes. When the tomato is soft, add the curry, pepper, sugar, bouillon, stir and cook for a few more minutes, before adding the chickpeas. Stir until the chickpeas are covered in the mixture. Add a little bit of water and let it simmer for about 10 minutes. Turn off the heat and stir the celery through the chickpeas. Serve in individual bowls and keep some icewater handy, in case you have to put out the "fire".
Enjoy!
In case you would like to experiment, here are some links for other chickpeas recipes:
With beef: http://kalynskitchen.blogspot.com/2008/03/spicy-sauteed-chickpeas-garbanzo-beans.html
Thai style: http://thaifood.about.com/od/vegetarianthairecipes/r/curriedchickpea.htm
Indian style: http://cookingwithamy.blogspot.com/2005/09/indian-style-chickpeas-recipe.html