It's New Year's Eve (already) when I start this post and because I didn't get a chance to post for the Christmas holidays, I was determined to write something on the last day of 2008. It's been a heck of a year that seemed to fly by like a whirlwind! So this post did not get finished until today.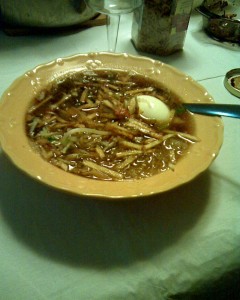 Saoto soup originated as a Javanese dish, but since Suriname is a melting pot of many ethnicities, there are various ways to prepare this soup. It is also known as "Blauwgrond Soup" because it is sold in an area of Suriname, where people would go late at night on the weekends to get an after-party or movie snack or meal. The recipe below is the one I learned from my mom (who is from Javanese origin), but feel free to improvise to your own taste.
Ingredients:
± 3 liter water
600 gr chicken (1/2 chicken)
5 slices galanga root (laos)
4 cloves garlic, whole
1 onion (cut in half over the length)
1 stalk lemon grass (sereh)
1 Indonesian bay leaf (duon salam)
2 large bouillon cubes
5 pc whole allspice
1 tsp black and/or white pepper
To garnish the soup:
6 hard boiled eggs
300 gr beansprouts (taugé)
2 cups shredded cabage
1 small can friend string potatoes
1 small pack bean thread vermicelli, fried) (soe-on)
fried onions and garlic
3 cups of cooked shredded chicken breast
1 stalk celery & parsley (chopped)
1 pepper (habanero or scotch bonnet)
1 clove garlic
5 tbsp soy sauce, salted (for sambal ketjap, spicy soy sauce)
Preparation:
Soup. Boil the water in a large pot. Cut the chicken in large pieces, rinse and add to the water. Add the galanga, garlic, onion, lemon grass, Indonesian bay leaf, bouillon cubes, pepper and allspice. Remove the chicken after 30 minutes and let the soup cook for another hour on low heat. Add more bouillon or salt to taste.
Once the chicken has cooled off, shred the meat with your fingers or use forks (no chopper). Peel the eggs, rinse and clean the beansprouts. Fry the vermicelli, onion and garlic separately in hot oil. Keep all these ingredients in separate bowls.
Sambal ketjap (spicy soy sauce). Boil the whole pepper for a short time in the soup, scoop it out and chop it with the garlic before adding some sugar and soy sauce.
Serving the soup. In each soup bowl, add one boiled egg, some beansprouts, cabage, fried potatoes, onion/garlic, chicken, topped by vermicelli. Pour the hot soup on top and add celery/parsley. If you like to make it spicy, add some sambal ketjap.
Tips:
Saoto soup can be consumed as an appetizer or as the main dish by serving with a bowl of steamed rice.
Even though Saoto has many ingredients, some of those could be left out if preferred.
Part of the preparation can also be done a day or two in advance.
Enjoy… or … Selamet makan!