If you want to cook something that's vegetarian, cheap and quick, this is the recipe for you!
180 grams of tofu (cut in cubes and fried)
1 eggplant (cut in cubes)
1 small onion (chopped)
4 pieces of garlic (chopped)
0,5 tomato (chopped)
2 salam leaves
0,5 tsp of sugar
3 tbsp of oil
3 tbsp of sweet soya sauce
3 bouillon cubes
a little bit of hot sauce
100 ml water
Heat the oil. Fry the onions a little bit, then add the garlic and fry all until it's light brown. Add the tomato, hot sauce, bouillon cubes, salam leves, sugar and soya sauce. Fry all until the tomato is almost dissolved. Then add the tofu, stir for a short while and add the eggplant. Stir again, then add the water after a few minutes. Turn the heat low and cover the pot. Let it all cook while stirring now and then until the eggplant is soft, but not too soft. Serve with cooked rice.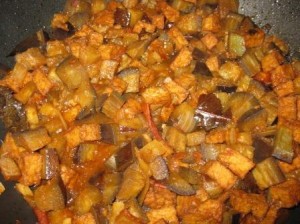 Tip 1: If you're not fond of the taste of tofu or eggplant you can camouflage it a little bit by adding some dried shrimp (soak and squeeze first) after frying the onion and garlic.
Tip 2: You can also vary this recipe by using another vegetable like cabbage, broccoli etc.
Njang switie! Enjoy!