A few weeks before Thanksgiving we had an international potluck at the office, allowing everyone to bring a dish to share. With co-workers from many countries in Latin America, Canada, China, Spain and the USA, we were able to put together a nice little  feast! There were appetizers, main dishes and even dessert that many of us had never tried before. Surprisingly all the food fit well together and everyone had a taste of each dish. What could be better than having food from at least six countries at one luncheon! Be sure to check some of the other recipes shared with me.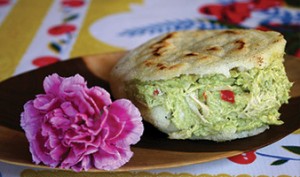 One of the appetizers was Reina Pepiada, mini arepas filled with a tasty chicken-avocado "salad".  Arepas are pancakes made of cornmeal and very traditional to Venezuela (and Colombia). They can be stuffed with anything from cheese, to pork or salad (like the recipe below),  and served spicy or plain. If you've never had arepas before, you should really give it a try with this easy recipe Isabella kindly shared with me.
To prepare the arepa you'll need:
2 cups corn flour
2-1/2 cups water
1 tsp salt.
Mix everything together into a smooth dough. You could preferible start with water, slowly adding flour. Form small balls and press flat with the hands before frying, grilling or baking. This method is for using the "tostiarepa" (see Isabella's comment).  The traditional way of making arepas requires 1-minute grilling or toasting on each side, then baking the arepas in the oven at 400 degrees for about 15-30 minutes.
Chicken-avocado filling:
1 chickenbreast
water, salt
2-3 tbsp mayonaise
1 avocado (ripe)
pepper
Cook the chicken with little bit of water and salt. When ready, let it cool and shred the chicken. Add mayonaise, avocado, salt, pepper and mix all together. Filling can be prepared ahead and kept in the fridge until ready to fill the arepas.
Variations: add some chopped onion, garlic, or lime juice.  You can also use low fat mayo for a healthier snack.
Be creative and dare to experiment.
Then enjoy!