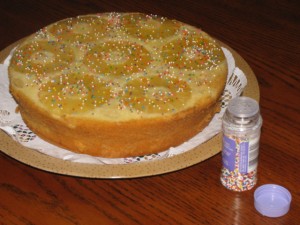 I learned this recipe from my Mom and made it so often that I don't even look up the recipe anymore. For a lower saturated fat percentage, you can substitute the butter with margarine (or shortening which has no salt), or use half butter half margarine . I've experimented with both and there is only a slight difference in the flavor. You will still enjoy a yummy cake, that is also lower in sugar than store-bought or box cakes.
Pineapple Upside-Down Cake
2 cups flour
pinch of salt
1 can (8 oz.) pineapple in juice, drained
10 maraschino cherries
2 cups (4 sticks) butter (or mix with margarine), softened
2 cups + 2 tbsp granulated sugar
6   eggs
1 tsp.  vanilla
Preheat oven to 350°F. Lightly grease and flour 10-inch cake pan.
Sift and mix flour and salt; set aside. Beat butter and 2 cups sugar in large bowl with electric mixer on medium speed until fluffy. Add eggs, 1 by 1, beating well after each addition. Blend in vanilla. Once the sugar is completely dissolved add flour mixture, blending small quantities at a lower speed. Whip some air into the mixture by hand.  Sprinkle some sugar in the cake pan and arrange drained pineapple slices with maraschino cherries. Sprinkle some more sugar over the pineapple and pour mixture into prepared pan.
Bake 1 hour to 1 hour 15 minutes or until inserted toothpick comes out clean. Take out of the oven and cool in pan 10 minutes. Loosen cake from side of pan with a knife. Invert cake onto wire rack, gently removing cake. Cool completely on rack. Sprinkle with powdered sugar or cookie sprinkles.
Enjoy a slice of cake with some hot tea or coffee.